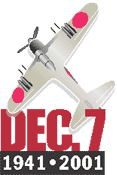 CHAPTER V: Growing Up Really Fast
In the eyes of children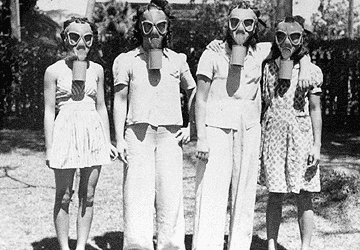 Dec. 7 forced Hawai'i's children to learn a wartime lifetsyle. At the Susannah Wesley House, students became accustomed to drills requiring gas masks.
Hawai'i War Records Depository, Hamilton Library, University of Hawai'i
Compiled by Advertiser Staff
In their own words
"Started off as any other Sunday morning: up at 6:30 in order to make the 8 o'clock Mass at St. Anthony's Church in Kalihi, just a block mauka of O'ahu Prison. At the time, I was an 8-year-old fourth-grader.
"We filed into church and no sooner than we got settled in our pews we heard the sound of anti-aircraft gunfire. We stood for the reading of the Gospel, at least giving us a chance to look out of the tall, narrow windows of our old church. What we saw was not the familiar white puffs of smoke from practice rounds, but dirty, greasy, ominous brown-black puffs. At the same time, we could hear explosions in the distance — not one or two but a whole series, like rolling thunder.
"Then, more sounds began to build up, this time from only a block away on Dillingham Boulevard. The next thing we heard were sirens, all kind of sirens: deep throaty howls from fire engines, high piercing wails from ambulances and police cars and the frantic honking of automobile horns — all of these high notes over what sounded like the bass notes of a pipe organ. These were the collective sound of a swarm of cars heading for Pearl Harbor. All this sound and vibration just bounced around inside our little church. It was just frightening.
"I was a young child then and for a long time, after seeing so many eyewitness accounts, felt that this story had to be told."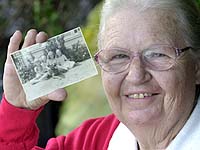 Mary Frances Hluboky, who was 10 at the time of the attack, holds up a snapshot taken in 1941 of her and her cousins.
Eugene Tanner • The Honolulu Advertiser
"A bomb came whining down toward us and exploded with a deafening force. We were told we would not hear the one meant for us. Five men driving on the way to Pearl Harbor were killed in their car near where our Judd Street meets Iholena. I asked why there had been no sound of an airplane when the bomb fell. The adults just looked at each other silently.
"In the following days, Dad went to work as a census taker, since schools were closed till February. We got ID cards, were fingerprinted and blood-typed after standing in long lines at Lanakila School. When we got issued our gas masks, our faces were too small to fit, and foam fabric had to be glued on the inside.
"When the air raid siren sounded, my sisters and I had special permission to run from school to Gulick Avenue to be with my Grandma and aunt. One Friday the siren sounded at snack time. I had to leave my unopened bottle of chocolate milk and race to Grandma's. I got there before the siren stopped wailing. When I got back to school, someone had drunk my chocolate milk.
"My godfather, Ian Brown, was killed on a naval vessel. My dad entertained servicemen at several reunions of his hometown, Stamford, Conn. My grandmother was sent to be with my mother's brother's family on the East Coast, while my uncle became an admiral (and) was part of the Pacific Fleet. Today, 60 years later, six of us remain — my aunt, two cousins, and my sisters and I.
— Mary Frances Hluboky, Honolulu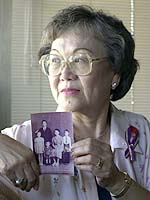 Ellen Wakabayashi holds a family picture taken in 1941.
Eugene Tanner • The Honolulu Advertiser
"I remember vividly, as a 7-year-old, the turmoil on the morning of Dec. 7, 1941.
"Brother and I walked to our pastor's house about a block away. Their family was having breakfast so (the pastor's wife) asked us to sit on the sofa and to wait for them.
"Suddenly, I heard loud sounds of a siren, and airplanes, so I quickly looked out the window. I saw an airplane with markings of a large red sun on the wings. Pastor told us to stay low and his wife scooted all the children in their bedroom and asked us to stay under the bed.
"The pastor asked us to stay where we were as he was going to drive to the piers to find out what was happening. He was very brave to venture outdoors. When he returned, he stated in a steady voice, "We're at war with Japan." I was stunned. War? I thought, and listened to his instructions. He stated that we all needed to go home and tell our parents we must leave the Peninsula because it was very dangerous to stay there. He drove us home and explained this to our mama, who was pretty frantic carrying our crying baby brother. I was scared and wanted to cry, too.
"Daddy in the meantime was having difficulty getting through the military police checkpoint. As cars and people were leaving the Peninsula, Daddy was pleading to get his family. Daddy said the MPs finally let him through because he started to raise his voice and proudly flashed out his driver's license at them. When Daddy got upset, he could really talk loud. I think the MPs did not want to let Daddy through the checkpoint because he spoke pidgin English and was of Japanese ancestry.
"Pearl City Peninsula is located south of Pearl City, within Pearl Harbor. Before Dec. 7, this was a small close-knit community where families could go fishing, crabbing, and clam digging.
"The pastor was the Rev. Hiro Higuchi, who served as a chaplain for the 442nd, who is now deceased."
— Ellen Sanpei Wakabayashi, Wahiawa
"It's easy to understand the emotions on that Sunday morning ran the full range from confusion to panic, fear, fright and adventure. For me, an 11-year-old of Japanese descent, all of those emotions were packed into one other: excitement. What I vividly recall, though, is the delight — a selfish, fiendish delight — that came over me as we kids stood along the Ala Wai Canal, watching enemy planes weaving through some puffy clouds."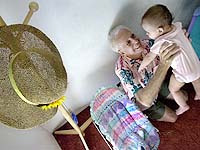 Lionel Medeiros plays with his 8-month-old granddaughter, Julia Brutsch, at his home in Kailua. Medeiros was a child in Kaimuki when Pearl Harbor was attacked.
Jeff Widener • The Honolulu Advertiser
"As a child I lived in Kaimuki, on Wai'alae Avenue between Ninth and 10th. My parents owned and operated Colonial Bakery. My mom and I returned from St. Patrick's Church where we had attended Mass. My mother had decided to stop at the bakery to pick up some freshly made Danish pastries to have as a special Sunday breakfast treat, when suddenly traffic increased dramatically in both directions on Wai'alae. Much of it was Army vehicles, and I distinctly remember seeing ambulances painted completely brown with a large red cross set against a white background, and they were racing down the avenue toward downtown Honolulu.
"I sat on our loose rock wall that surrounded our property, eating pastries as I watched people coming out of their homes on both sides of the street, and pointing to the sky in a westward direction. I watched puffs of smoke appear and disappear for what seemed a long time before my mom hustled me back into the house. …
"Because the military government ordered a blackout, my mom placed a cleaned out 5-pound Crisco can with a candle on the bottom in the corner of my bedroom. I watched the shadowy fingers created by the candle leap out and play against the wall. For the first time in a long time I was scared and I cried myself to sleep."
"Perhaps the earliest event in my life that I am capable of recalling are those visual scenes that I've retained from the day that Pearl Harbor was attacked."
— Lionel Medeiros, Kailua
"Dec. 7 started out as a typical Sunday for my mom and me. (She owned a grocery store below Buckner Gate at Fort Shafter.) Sunday was washday and we were doing laundry in our community laundry area. While boiling, scrubbing and rinsing our wash, mom noticed black spots in the air and commented, 'That's funny, why are they having target practice on Sunday?' We later heard on the radio that Pearl Harbor was attacked. The following days and months were blackouts. Lights out early, with black felt covering windows and doors. Small slits on car headlights. Block wardens and food rations."
— Cynthia Hennessey, Honolulu
"Zoom! Zoom! Zoom! Planes were flying very low as I walked down Nu'uanu Avenue on my way to Sunday school class at Nu'uanu Chuo Gakuen, where I also attended Japanese language school there. I was 11 years old then, not knowing what was going on. I watched the planes whizzing by.
"Classes were held in a two-story wooden structure with wide stairways. There were many children in attendance that morning. I clearly remember singing the song 'Ame, ame, furi-furi' when suddenly there was a loud noise. Our teacher in charge told us that it wasn't anything to worry about and to keep on singing. A few minutes later, a second 'boom' sounded and right after the third struck our building. The auditorium shook, debris was flying all over, and the children screaming. We all frantically trampled down the wide stairway like a herd of cattle. Along the way going down, I witnessed children that were hurt badly.
"By this time, there were parents who came to pick up their children. Without a moment to lose, I ran as fast as I could headed for home. Breathlessly I told my family what had happened. Quickly we turned the radio on, and then and there we realized what was going on.
"Although this event occurred 60 years ago, it seems like yesterday for this experience I can never forget. I am ever so grateful that I survived this dreadful day and am able to share my story with my family, relatives and friends."
— Chiye (Carol) Itagaki, Honolulu
"Sunday morning started out as a normal, peaceful day with my sister, Alma, a neighbor teenager, Emma, and myself walkin to church for the 8 a.m. service at St. John Catholic Church.
"The service started and we could hear different sirens going off at Fort Shafter but we figured it was only maneuvers. Several of the Army personnel got up and walked out. An usher came to our pew and told Emma that her uncle was there and wanted to speak with her so she went to the back of the church. She came back almost immediately and said, nervously, that her uncle had been out near Pearl Harbor and informed her that the Japanese were attacking Pearl Harbor and he would take us home if we so desired.
"I remember walking out to the front of our house and telling some children who were walking around that they should get to their homes. My knees were trembling so much that I could hardly stand up.
"Life changed a lot for us — I stayed out of school to go to work in my junior year and went to work at the civilian housing area, which housed men who came from the Mainland to work at Pearl Harbor. I was able to graduate with my class of '44 at Roosevelt High School."
— Ruth Silen Kersenbrock, Kailua
"Before the 7th of December, 1941, as a child of only 7 years of age, there were always planes in the sky practicing war games, etc. We lived in a very small house down Depot Road in Waipahu. Actually, we could see Pearl Harbor very clearly. That morning, when we heard the bombs falling and the Japanese planes flying overhead, we all came out to see what was going on. While we were outside, we all waved 'V' for victory at the planes above not knowing what was going on. My dad came out and said this is for real and for us to get inside where we could hear the radio announcer saying 'This is an air-raid alarm, Take cover.'
"It was exciting to us, watching the planes flying above and seeing the water from the sea go up so high (at least a couple of hundred feet in the air).
"We all got into my uncle's old jalopy … and headed out of Waipahu to a safer place, which I can't remember where. A few days later we all went back home, but when we got there, our house was completely demolished. There were large craters throughout the area. All of our cows and other animals were gone. As we were getting back in our car and driving away, that's when I realized that this was a real war."
— Alexander M. Rodrigues Sr., Belton, Texas
"I was 8 years old and in the third grade at Lincoln Elementary School. We lived in a very old house at 801 Prospect St. From our house we had an unobstructed view of the city from Diamond Head and Waikiki beach to the downtown business district. Just a block up Prospect got us far enough around the hill, Punchbowl, that we could see the rest of the O'ahu south shore from downtown on beyond Pearl Harbor and Barbers Point to 'Ewa Beach.
"We were awakened by the sound of gunfire and heavy explosions (and) were a little surprised but assumed it was just more war games, this time on a weekend. I went with my dad and some of the neighbors a block up the street to the corner of Prospect and Alapa'i and what we saw from there looked like all of Hickam Field and Pearl Harbor was on fire. The whole area was a huge billowing cloud of black oily smoke with boiling flames shooting higher than anything I had ever seen. It was obvious to all of us then that something was very seriously wrong. On the way back to our house we realized that all the airplanes we had been watching overhead as they turned and headed back toward all the smoke didn't look like any airplanes we were used to seeing during normal maneuvers and they all had round red circles painted on them instead of white stars.
"When I got home, my sister and I climbed up on the roof where we had a better view. We enjoyed what was like a front-row seat at an air show for quite a while before our mother finally found us and made us get down and come in the house. Seems she had been looking for us ever since she heard the man on the radio telling everyone that this was not maneuvers, that it was the 'Real McCoy.' "
— Jack Wasson, Gig Harbor, Wash.
"I don't exactly remember what I was doing the morning of Sunday, Dec. 7, 1941, but as soon as I heard the sound of airplanes I climbed up our mango tree and went onto the roof of our two-story rental house located on Dillingham Boulevard near McNeil Street. I saw airplanes flying from the east and heading west. They were flying so low I noticed the planes had the red rising sun on the wings. There were many, many planes. I could see the pilots pretty well and could see they were not Americans. I followed the flight pattern of the planes and pretty soon I saw smoke coming from the direction the planes flew.
"Soon after the attack some FBI agents came to our house. The agents told my parents to get rid of the pigeons — in other words, to kill them all. I couldn't bring myself to kill the pigeons I bought and raised and came to love so my father killed them. I had over 50 homing pigeons, some of which I had trained to come home to our Dillingham Boulevard home from as far as Hanauma Bay. I would release them, recording the time and my mom would watch for them and note the time they returned to their coop. The FBI agents also took our radio, and they took our clotheslines, too.
— Henry S. Arita, Honolulu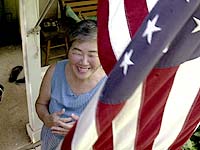 Nancy Miller, on the front porch of her 'Ewa Beach home, was 9 on Dec. 7, 1941, when she heard loud explosions and saw thick black clouds of smoke rising up into the sky.
Jeff Widener • The Honolulu Advertiser
"The sky was blue with very few clouds that Sunday morning. I was 9 years old and lived with my parents and brother in the second story of an old four-unit wooden structure in Ma'o Lane, Kalihi. My popo (grandmother) owned the structure and lived on the first floor with two of her sons.
"It was a peaceful morning, I watched our kimono-clad neighbor who lived diagonally from us in his two-story home greet his talking myna bird by saying, 'Ohayo.' The bird would echo the 'ohayo.' It was a ritual every morning between the two. After a while, I watched people walking down to the church at the end of the lane, the church bells were ringing. I wondered whether I should go back to church as I waved to a friend walking down the lane with her family.
"Suddenly, deafening sounds of explosions and thick black smoke rose up into the sky. I ran into the house, scared. My parents shouted, 'Don't go out on the porch, stay in the house!' From our windows we saw planes with red suns
flying low in the sky firing machine guns. My dad turned on the radio. The announcer anxiously repeated over and over, 'We are being attacked, take cover, this is the real McCoy!' … Over and over again.
"When my grandmother heard that her sons were going to the bases, she cried out in Chinese, 'Ai-ya! The Japanese have invaded China and are now at our doorsteps! Ai-ya! Don't go! Don't go! You'll get killed! Don't go! Ai-yah! Ai-yah!' she moaned.
"My dad and uncles and the other riders were all back home that afternoon. Being Asian, they were denied entrance to the bases and sent away. A few days later, my dad read in the newspaper that our kimono-clad neighbor committed suicide because he was so ashamed of what happened on Dec. 7."
— Nancy S.N. Miller, 'Ewa Beach
"A bunch of barefoot Young Street and Kemole Lane kids were playing marbles in Wimpy's back yard. After a while, we stopped shooting marbles to listen to the dull thuds that sounded like thunder. Even today after nearly 60 years I can still hear the muffled booms. Within minutes, we were back to our games because the commotion sounded too far in the distance to cause us any concern. However, panic-stricken mothers hurriedly came to get their children and broke up the fun. I can remember my mom coming to get me and my older brother, Paul, and younger brother, Rowland. I can still recall the terror in her voice as she commanded, 'War! War!'
"Trying to keep up with big brother Paul leading the way and my mom with her firm grasp on my wrist and carrying Rowland under her other arm, this bewildered 6-year-old asked, 'What is war?'
"On that fateful morning and night of Dec. 7, 1941, I learned that war made children cry because big people cried in fear of the unknown.
"War forced children to lose their innocence and grow up fast. War taught children a whole new and different vocabulary, which had real-life meaning and consequences. Words that were never heard before and the new experiences that were being forged daily made a lasting impression on us — especially if you were American of Japanese ancestry. I was constantly afraid of being shipped somewhere — 'concentration camps with barbed wire' is what the big people said — another word that I did not understand but instinctively knew to fear.
"I came to know over the ensuing days, weeks, months and years under martial law, the definition of war — confusion, fear, courage, patriotism and sacrifice. Ironically, I still do not have a clear definition of war. War caused adults to lose their dignity, their lives or survive with emotional scars. I wonder what the scarring will be among the surviving children and adults of Sept. 11, 2001?"
"I was a nearly 8-year-old boy living with my parents and sisters in a small home on Kuhio Avenue. On the morning of Dec. 7, my sisters and I were carted off to St. Clement's Sunday school in Manoa by my father. We probably left the house about 8 a.m. and noticed that the military appeared to be conducting maneuvers in the direction of Pearl Harbor. Distant rumbles and occasional puffs of smoke in the sky were not unusual in those days.
"When we arrived inside the parish house, I distinctly remember that there were no other children there. The lone Sunday school teacher asked, 'Why are you here? Don't you know there's a war on?'
"What's a war?' I asked.
"We soon found out.
" … In spite of the danger, curiosity got the best of us (back at home), and we went to the third-floor patio to see what was going on. I can distinctly remember a huge black cloud rising up from the ground in the direction of Pearl Harbor. We could see aircraft circling and then diving down. Black puffs of exploding anti-aircraft shells filled the sky and louder rumbles told us that something big was happening.
"Then there was a moment of high-pitched whine just before Kuhio Avenue exploded about a block away. A jagged piece of shrapnel fell at our feet, and I can still remember how warm it was when I picked it up.
"Actually, the explosion was at the corner of Lewers and Kuhio, right between where the Ohana Waikiki Surf and Ohana Malia now stand. … In the panic of the moment, many (anti-aircraft) shells were thrown up without being properly set. One had hit the corner of McCully and King streets, just after we had passed it leaving St. Clement's."
— Richard R. Kelley, chairman, Outrigger Hotels & Resorts
"It is a difficult time to remember, Dec. 7, 1941. Only those of us who were here can convey to each other the shared experience of that day … the shock of the sudden attack, the sounds of shelling and the planes over head, the smell of smoke as it billowed black and foreboding, darkening our morning sky. An awful day in my life.
"I was a boy of 11, sitting at Mass at St. Theresa's church, when I heard explosions. As I was walking home, there were lots of anti-aircraft shellings going on. We were used to practice shelling, but this was so intense, especially for a Sunday. I was on the Kapalama bridge when out of the graying clouds flew a P-40, chased by three fighters, big red circles on their wings and fuselage. They were firing away at the P-40 as it dove back into the dark clouds in an attempt to shake them off.
"I then ran home. There were people all out on the street, all eyes on the sky. Radios were blaring, 'This is not a drill, this is not a drill. The Japanese are bombing Hawai'i! Stay in your homes!'
"My dad, who was a leading man at Pearl Harbor fuel depot, had already reported back to work. I went back out to the street where my neighbors and friends all were standing. Then all of a sudden there was a huge sound of an explosion with a rumbling echo, really eerie sound. We thought at that time that the Palama incinerator had blown up. But we later learned that it had been the battleship Arizona.
"The really scary part of that era was all the rumors flowing around the island. We heard that Japanese troops were landing on the beaches in Waimanalo. Another was that paratroopers were being dropped in Kalihi Valley. All these rumors created a public scenario of complete fear and panic. In those days, no one knew what was truth and what was rumor. It just kept everyone totally frightened.
"So I say once again that you cannot completely explain the actual experience of it all. How do you adequately describe the rumble of the explosions felt in the ground, how the blue morning skies turned to darkness so quickly and spread the burning smell of the smoke and fires. But most of all the fear, renewed again and again by all the rampant rumors."
— Roal Dos Santos, Kane'ohe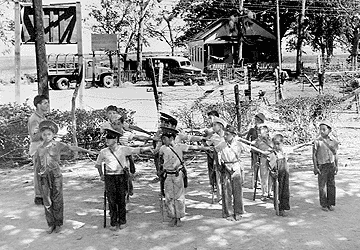 Children in the "barefoot army" of 'Ewa emulate military troops in formation.
Hawai'i War Records Depository, Hamilton Library, University of Hawai'i