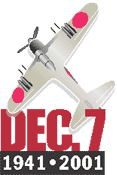 CHAPTER VI: Looking Back to Enrich the Future
A legacy of oral history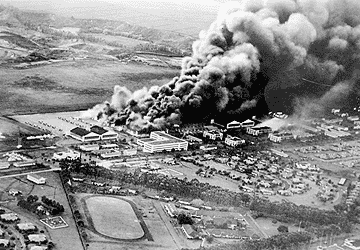 Wheeler Airfield during the attack as photographed by a camera on a Japanese plane. Some residents witnessed the Japanese planes circling Wahiawa and heading back to hit Wheeler again.
Compiled by Advertiser Staff
In their own words
"During the fateful morning, I was tending to my newly planted grass at my new home on Lime Street. Suddenly, I heard 'boom, boom' sounds and saw puffs of smoke appearing in the sky. This must have been the artillery firing from Fort Armstrong attempting to shoot down the Japanese warplane.
"I turned on the radio and heard the calling of all Pearl Harbor Naval Shipyard workers to report to work immediately. I couldn't reach my car-pool driver by phone, but later he came by to pick me up. While driving, he could hardly steer straight. He nervously maneuvered the car through the city streets. He was so scared that he wanted to go back home. Approaching the main gate of Pearl Harbor, I saw flying bullets hitting the road here and there. I think this was the Japanese warplane flying low, heading for Hickam Airfield. Fortunately, no one got hurt.
"As soon as I reached Machine Shop 31, I punched in near the entrance. I looked outside; to my right, Minelayer USS Oglala overturned, presumably after a torpedo hit. I looked straight ahead to Ford Island. Smoke billowed upward and blackened the sky. I believe this was from bomb explosions and fire on the deck of the damaged Battleship West Virginia.…
"Late that night, we left Pearl Harbor with both headlights painted black except for the small area in the center. On the way home, sirens would sometimes sound and we pulled over to the curb until the 'all clear' signal sounded. I reached home after midnight.
"Although 60 long years have already passed, I still remember the day that World War II began as if it were yesterday."
— Edward Kam Wai Lau, 87, Honolulu
(Lau spoke these words to his daughter, Lorraine Chin of Waipahu, who wrote them down.)
"My name is Rose and I was 12 on that fateful day. We lived in Damon Tract, less than 5 miles from Pearl Harbor, where Honolulu International Airport is today. We heard the sounds of planes above and went outside to look. Because of our innocence, we began waving at the pilots. Within minutes, we heard explosions.
"My father, Julio DeCastro (see Navy report from Shop 11 on Page 9), dropped off my mother and sister and left home to report to Pearl Harbor. It would be the last time we saw Dad for three nights. He humbly summarized his experiences by saying he was tired as he did not sleep and hungry, as he did not eat.
"Days later, a newspaper reporter came to our home. The reporter shared accounts of my father's actions, specifically aboard the USS Oklahoma. The reporter called my father a hero. My father, a caulker and chipper, and a crew of 21 other civilian men, chipped away at metal for more than 24 hours, freeing the 32 sailors from rising water aboard the capsized Oklahoma.
"On Nov. 9, 1984, at the age of 83, my father died. When I remember Dec. 7, 1941, I feel sadness for the lives lost … and an enormous sense of pride in knowing my father made a difference in the lives of 32 sailors."
— Rose Marie Castro Marks (submitted by her daughter, Roberta Marks)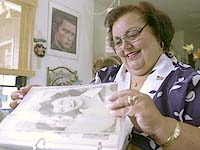 Yvonne Debinski with a photo of her mother and herself.
Cory Lum • The Honolulu Advertiser
"My mother told it many times. Maybe it was her way of trying to believe what we lived through. It was repeated to me many times as I grew up here in Hawai'i.
"My dad was stationed at Schofield, and we lived across from the parade grounds. I was only a year old. Mom was in the kitchen getting my breakfast when she heard planes, lots of planes. She said the soldiers that had been walking across the parade ground going to church started running, and diving for cover. She realized the planes had red zeros on their sides.
"She quickly grabbed me out of the high chair, and I was now screaming and hysterical from the noise. She tried to run to the neighbors with me in her arms, but the planes kept strafing the road between, and Mom said she could actually see the pilots, they came down so close. So, her next thought was put me in the icebox, a heavy wooded thing, 'cause a bomb had dropped close by and Mom said it felt like our little home had been blown apart and thrown back together again. But putting me in the icebox might freeze me. She was crying and I was screaming.
"An Army truck came by, telling women and children to get in. A GI came running in and grabbed her and me, and threw us in the back end of a truck. Mom said it was full of other hysterical women and children, and my arms were so tight around her neck, she thought I was going to choke her. All of a sudden she felt something warm on her foot, and looking down, she saw a little boy peeing on her foot!
"We ended up on Kolekoke Pass, and then to some schoolhouse in town somewhere. Meanwhile, my dad said he was up on a rooftop with a pistol, shooting at the planes. He found us two days later; he shipped out to Germany, and sent my mom and me to meet his family in Shomokin, Pa."
—Yvonne Wancio Dembinski, 'Ewa Beach
"Our mother, Florence Kim Gruber, passed away on Jan. 23, 2001. She was 24 years old on Dec. 7, 1941. Here is what she wrote about it many years ago:
"We were living at 142 Circle Drive (Wahiawa). We were still in bed, only Ida (youngest sister) got up when she heard the unusually loud noise of many airplanes flying low and heard sounds of shooting.
"By the time I got up to look out, one of our neighbors was calling for our brother, Joe (youngest sibling), to come right away to fix a busted water pipe. American planes were fighting with the Japanese planes when one of the bullets ricocheted and hit her water line into the kitchen.
"Another neighbor, Mr. Pickel, was at the back yard fence repeating, 'Do not come out of your homes! Japan has attacked us and we are at war! Stay indoors and turn on your radios.'
"Later that day we heard that our cousin Martha got hit by one of the falling bullets. She was hanging up the laundry in their yard when she noticed the round red symbol of Japan on the side of one of the airplanes so she dropped the clothes and ran inside their house to duck under the bed or table when a bullet came through the tin roof and hit her in the hip area."
— Marti Mitchell of Kihei (for Margaret Kelly, Mary Clarose and Marlene Hoover, children of Florence Kim Gruber)
"My aunt, Lupe Souza, wrote this account several years ago and gave me a copy of it. She died two years ago in Cerritos, Calif., but never forgot that day:
" 'My only thought was, my husband is out there. Waiting for word was a most helpless feeling for all of us. My sister-in-law's husband was in the Navy and on duty. We didn't say much, but our thoughts were the same: Are we going to see our husbands again? It seemed as though time was standing still.
" 'Through some miracle, my husband got home safely. Two or three hours had passed since the strike. He was shaky and pale. He described the horror of the unexpected attack, young bodies riddled, multiple explosions and fires starting everywhere around Hickam Field. He said he had gotten down on his knees and crawled away from the onslaught through the bushes and sugar cane fields. He had then walked all the way home, shaken and terrified. We cried and hugged each other.
" 'My sister-in-law was less fortunate. She never saw her husband again.' "
— Wilma Souza Boudreau, Kailua
"My father, David Lee, who's around 85 years old and a resident of Wahiawa, was on his way home during the early morning of Dec. 7, 1941. He remembers how the Japanese planes were bombing Wheeler Airfield and circling around Wahiawa near 'Ohai Street to repeat another assault on Wheeler. As these planes approached the Wahiawa bridge, they would come in really low and the plane gunners would strafe bullets upon the many soldiers who were running towards the bridge in order to report back to Wheeler. It was during this moment that my dad's fate rested on the finger of one man … a Japanese gunner.
"You see, as my dad was hurrying up Kam Highway, a Japanese Zero came straight towards him on the opposite side of the street, flying about 100 feet off the ground. The gunner, who had been firing down upon the soldiers who were running for cover, suddenly swung his turret around to fire to the opposite side of the plane and it was at this moment that he faced my dad, eyeball-to-eyeball.
"At first, my dad was about to flash him the famous 'one-finger gesture' but intuition overcame the better part of valor so he froze. … With his gun pointed at my dad, the gunner simply smiled and flashed the "V" for victory signal with his non- trigger fingers. It's been 60 years, and my dad still can see this guy's face, forever etched in memory."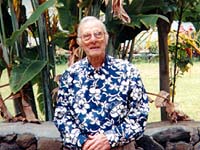 Henry Enos of the Big Island says he and his wife, Lucy, were in Pahala Hospital where she was giving birth to their son Alvin when they found out about the attack.
Photo courtesy Kathy O'Connor
"I interviewed my 95-year-old father-in-law on the Big Island. This is the story he told when I asked him:
" 'My wife, Lucy, was in Pahala Hospital giving birth to our son Alvin when we heard news that Pearl Harbor had been attacked by the Japanese. The sheriff and police captain went around and rounded up all the able-bodied men and issued us rifles. We were conscripted to do special police work in the local militia and given armbands to wear to identify ourselves.
" 'We had to stop cars and search them. We guarded every bridge day and night. We were given telescopes and told to watch the sky and ocean. … We worked 12-hour shifts and were paid $5 a day. This lasted about six months — until the Army came in and took over. We were on gas rations and had to keep the houses dark at night."
— Henry Enos, as told to Kathy O'Connor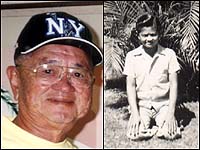 Thompson Yoshinori "Nori" Izawa says that as a 12-year-old, he couldn't fully comprehend the significance of the attack. "It was exciting more than anything else."
"The following is Thompson Yoshinori "Nori" Izawa's recounting of what he witnessed and how it affected him and his family:
"I went fishing with my dad as usual at our favorite spot out at the point of the Pearl City peninsula — off the edge of a barge at 'V' dock. We were catching plenty of papio as usual with our then secret bait, 'opae lolo. Little after 8 o'clock, the planes came from the west from the direction of the Wai'anae range. The planes headed right for the harbor. The sky was full of them. We soon realized they had the round red emblem of Japan on the wings and the body.
"The destruction was fast and efficient. A torpedo bomber swooped down real low and launched a torpedo right from the edge of the peninsula near where we were fishing toward the USS Utah. I saw the head of the torpedo quickly emerge and head for the ship and crack it. With that one hit, Utah rolled over. One hit.
"But on the far left was Ford Island where they took the worst beating. Dive-bombers were dropping bombs like mad. Then I saw one plane on fire and completely vertically went into one battleship, kamikaze style. Then a large explosion. It shook the air and rang my ears. I saw the explosion and the flame and black smoke. To this day I don't know what battleship it was, maybe the Arizona. There were so many planes it's a wonder they didn't bang into each other. Just before we left the area, I saw a Zero get hit. It took one wing completely off. But the pilot was still able to somehow maneuver his plane right into the USS Curtis.
"I knew the individual ships and the type of ships they were. The record shows three enemy planes were taken down. Two of them succeeded in crashing into our ships. The ships were easy targets and for the crucial first few minutes the enemy planes received virtually no anti-aircraft fire. As soon as a fire was put out on deck, a fatally damaged plane would kamikaze right onto the deck or a dive-bomber would drop another bomb and start another fire. I saw the sailors running around trying to put out the fire. Meanwhile burning men were jumping overboard, as other planes strafed the ship.
"It was chaotic. They were helpless. I had never seen men dying before me like that in a war situation. At first I thought it was maneuvers, but I soon realized it was a real war. Even so, as a 12-year-old, the reality impact was not as that felt by an adult; it was exciting more than anything else, something new going on before my eyes.
"Of course, my dad realized the seriousness of the situation and he grabbed my ears and took me home, despite my reluctance because I wanted to stay.
"As we rushed home, the bursting anti-aircraft cannon shrapnel were raining on us. It was risky enough in a car, but very dangerous for those who were on foot. There were extraordinarily large numbers of these shells bursting ineffectively because apparently they were timed to burst at higher levels than the Japanese planes were flying. … The distance from my home on the peninsula and the nearest ship in the harbor was only 1,000 to 1,200 feet. The planes were flying so low that we could see the face and eyes of the pilots. They had the cockpit cover drawn back so their figures were clearly visible. I remember the determined expression of one of the pilots. The pilots waved at us.
"After the attack ended, the Navy came to our neighborhood with sailors armed with fixed bayonets. They had Japanese families who had no place to go on moment's notice away from the immediate area aboard gray Navy trucks. They took us way up Waimano Home Road past the Waimano Home facility in upper Pearl City, and led us far into the mountain via a dirt trail where we used to go to pick mountain apples. There we stayed overnight in tall grass in the rain, with no covering or blankets. The next day they took us to the Waipahu Hongwanji Mission where we stayed the next three weeks fending for ourselves. We slept on the floor. The church members brought us rice balls and blankets and did what they could for us.
"We later learned that non-Japanese were allowed to return to their homes on the peninsula, the same neighborhood we lived in, but we being Japanese, were not allowed to return until three weeks later."
— Thompson Izawa lives in 'Aiea
(Izawa was interviewed by James T. Tanabe of Waipahu, who wrote: "Before Dec 7, Izawa at 11-12 years old was already an accomplished swimmer and diver, able to swim to and from Ford Island, a distance of some 400 yards one way. He had helped pull out floating bodies of sailors who had drowned in the harbor.")