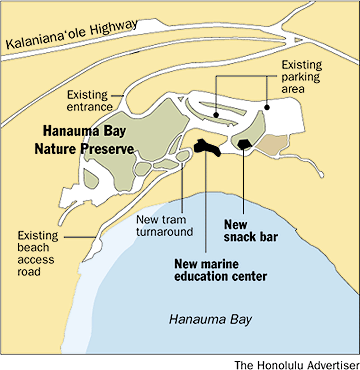 By Karen Blakeman
Advertiser Staff Writer
Putting aside more than two years of community controversy, the state Board of Land and Natural Resources yesterday unanimously approved a conservation district use permit that clears the way for the city to begin work on $10 million in improvements at Hanauma Bay.
That the controversy is not dead was clear from the five and a half hours of testimony from some 70 people who crowded into the board's hearing room.
Those who spoke against the development described it as a distraction from the natural beauty of the area, too commercial and inappropriate for a nature preserve.
Proponents said the improvements are the best way to save the bay from the destruction caused by the nearly 2,000 people who visit it each day. Appropriate facilities to educate the public against harming the bay's reef are preferable to closing the bay to public use, supporters said.
The board agreed.
"I was opposed to the buildings when this first came up," said board member Kathryn Inouye. "Since then I have made several visits to Hanauma Bay and now I support it. It is clearly needed."
The project, first proposed in 1998, will include an education center, a gift shop and a new snack bar along the upper rim, and restrooms, lifeguard towers, an information kiosk and other improvements beachside.
Architects and designers for Group 70, which has contracted with the city to design the bay improvements, said the buildings are designed to fit in with their surroundings.
The education center and snack bar roofs will be covered over with a grass berm. The gift shop will be sided with a fake rock that will blend into the cliffside.
Alan Hong, Hanauma Bay manager, testified that the new marine education building will contain a room in which a video of up to eight minutes in length will inform visitors of conditions affecting the reef.
Visitors will be required to pass through training before entering the bay. Those who have undergone training within the past year would be given a pass allowing them to skip training sessions.
Member of the Friends of Hanauma Bay, a group of volunteers that now stands out on the beach each day warning users against touching the coral, wearing too much suntan lotion in the water and other activities likely to damage the area, testified that visitors need much more intensive education.
Friends volunteer Ray Gritter testified that despite his efforts to inform visitor of the fragile conditions of the bay, he once looked out into the water and counted 13 visitors standing on the reef.
Opponents weren't convinced. Some said the center is too large, others that it is unnecessary. Local architect Robert Reeder said he believes the education center is laid out improperly to handle the large crowds at Hanauma.
"They'll have people standing in lines forever," said Reeder. "The tourists will get tired of it and the locals are never going to want to go there."