Cayetano calls for O'ahu fireworks ban
What should be done about aerial fireworks? Join our online discussion
Previous story: New Year's fireworks were plentiful, deadly


By Dan Nakaso
Advertiser Staff Writer
The smell of Lillian Herring's charred home hung in the air on Myrtle Street.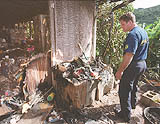 Fire Capt. Paul Stankiewicz surveyed the remains of 2615 Myrtle St. in Palolo Valley, where resident Lillian Herring and her dogs perished in a fire.

Deborah Booker • The Honolulu Advertiser

And so did something else yesterday — the whiff of suspicion, a feeling of unease and the unanswered questions that neighbors are asking themselves.

Detectives are trying to find out which of Herring's neighbors in Palolo Valley were shooting illegal fireworks on New Year's Eve. But most of whatever evidence might have remained has been swept up or washed down the gutter.

The wooden scaffolds that suddenly appeared New Year's Eve to hold strings of thousands of firecrackers have disappeared. Neighbors have gone silent.

In a neighborhood notorious for outlaw New Year's Eve and Fourth of July pyrotechnic shows, no one in Palolo Valley will admit they may have lit the aerial firework that investigators believe set Herring's 40-year-old home afire and trapped the 80-year-old woman inside, killing her. The fire also killed her two dogs.

So the rewriting of the history of New Year's Eve 2000 on Myrtle Street is under way.

Up and down the block of older, single-family homes on the 'ewa side of Palolo Valley, neighbors said they stayed away from fireworks this year, legal or otherwise.

"It wasn't that busy, especially compared to last year," said Barney Corrales, a hotel pastry chef.

From the homes that sit just below Myrtle Street, residents had a different view.

"Of course they're going to say that," said Val Kekahuna. "It was horrible. They were as bad as everyone else."

One woman who was sweeping fireworks debris in front of her home on Gardenia Street New Year's Day pointed police to the neighbors whom she said were firing illegal aerials. Like many others who spoke to The Advertiser, she declined to give her name.

"Joyce. Just say Joyce," she said. "I give you my name and they shoot the aerial at me and not just at the house."

Sometime around 10 New Year's Eve, fire investigators suspect that an aerial firework landed in front of Herring's carport and ignited the newspapers she recycled each week to raise money for children in India.

Herring lived in the three-bedroom home with her daughter Christine, 48, but was home alone on New Year's Eve with their two poi dogs.

Within minutes, the entire home was engulfed in a wave of flames. The house was so stuffed with newspapers, aluminum cans, milk cartons, magazines and various other things that firefighters were sometimes standing four feet off the floor, with their helmets scraping the ceiling.

"We never found the floor," said acting Capt. Carlson Joy of the Honolulu Fire Department's Palolo Station.

They did find her dogs, one of which had hidden underneath a bed in the front bedroom. After going back repeatedly, firefighters discovered Herring's body under two feet of debris in the front room. She was wearing rubber slippers and may have been trying to escape.

The home was a total loss, investigators said yesterday. They estimated the damage at $100,000 to the building and $40,000 to its contents.

On a street where she lived for 40 years, Herring was a familiar sight but not well-known — she waved to neighbors but generally kept to herself.

Her home overflowed with packages of toilet paper, small appliances, bags of aluminum cans, and stacks and stacks of newspapers.

She was well-known to O'ahu recycling companies and would arrive at many of them at least once a week, her off-white Mercury wagon overflowing with cardboard, newspapers and glass.

Herring often arrived with pastry for the women who worked in the office at Horizon Waste Services of Hawaii in Kalihi.

"She was quiet, but she was a wonderful lady," said Gordon Tavares, Horizon's facility manager. "She collected recyclables for her church, after all."

In 1995, Herring won a scratch-off game with the Tomra Recycling Network and received a new Ford Ranger pickup truck. Herring, who was less than 5 feet tall, had to clamber up the running board to get inside. But she loved being able to haul several loads of newspapers and cans, said Terry Telfer, area business manager for Tomra.

"She was cute. She would have to roll in and out, and her legs wouldn't even touch the running board," Telfer said. "She loved that truck because she could donate that many more cans."

Outside Herring's home yesterday, the truck was gone, but her tired Mercury wagon remained, its windshield sealed by duct tape, the odometer reading 97,482 miles.

A stick-on calendar hanging from the dashboard — "Holiday Greetings!" it read — was still flipped to December.

Two wooden crosses dangled from the rearview mirror. Statues of Jesus, Joseph and Mary looked out the front window.

Mary Osorio packed her children into their mini-van on Jasmine Street, just below Myrtle, and drove them to see Herring's house.

Osorio won't let her children play with fireworks. "They hate me for it," she said.

So Osorio decided to show them the damage that fireworks can do.

"We're going to take a look," Osorio said. "And maybe we'll learn something."