Hawai'i importers face daunting challenges
Entrepreneur learns you can't fight the cultures
To become an importer, do your homework first

By Leigh An Crow
Advertiser Staff Writer

"From the moment you walk off the plane and make it through customs, it's bedlam," says Fred Verceles.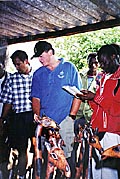 Fred Verceles, left, and Stu Burn, center, negotiate prices with Jackson Ncube, representing a Zimbabwe artists' cooperative.

Courtesy of Fred Verceles

But landing where things seem a little crazy is exactly what motivates Verceles, co-owner and buyer for Out of Africa, a nearly 10-year-old retailer in Ward Warehouse that sells items from African nations.

Traversing narrow, rugged dirt roads hunting for artists, Verceles stumbles onto bits of information that introduce him to new artists or lead him to more favorable trading relationships. He tries to open himself to the culture and pay attention to facial expressions and tone of voice.

Verceles, 37, says such an attitude has helped him through many awkward situations during the monthlong trips he has taken for the past five years. Importers can read and prepare all they want, "but once you're there, it's not anything you've read about," he said.

Verceles has been on five buying trips to Africa for his store, which he co-owns with Marcus Gualter. Although he occasionally orders from American markets to maintain inventory until his next big trip, Verceles said that despite the expense of travel and time away from the store, buying directly from the source ultimately is less expensive than buying from Mainland dealers.

Verceles said he also believes that when his goods are coupled with stories about where they came from, it's more valuable to his customers. "It makes it more exciting for them," he said.

Verceles does most of the buying for the store, but for purchasing power and second opinions, he frequently travels with Stu Burn, a buyer for a chain of stores in Australia and New Zealand.

Covering Africa

Buying missions have taken them throughout the eastern seaboard and inland areas of central and southern Africa, including Kenya, Tanzania, Malawi, Zambia, Uganda, Mozambique, Botswana, Zimbabwe, South Africa, Swaziland, Lesotho and the Congo.

Soapstone and bone carvings come from Kenya. Shona stone and wooden statues come from Zimbabwe and Malawi. Jewelry from South Africa. Drums from Zambia and South Africa.

To make the trips go smoothly, Verceles writes trading cooperatives in advance, telling them when he'll be there. The co-ops, organized groups of 50 to 100 artists who sell their goods in a common location, account for about 70 percent of Out of Africa's inventory.

He and Burn also obtain currency in advance. Where possible, they make cash advances so they don't have to carry large amounts. But advance planning only goes so far, and in several countries, technology is not advanced enough to make cash advances expediently.

"The bank systems are so slow, it could take up to four hours to get approval for a cash advance," Verceles said. In countries where that is the case, U.S. dollars or travelers checks are exchanged faster.

The actual buying process is an all-day event: driving to a remote area, inspecting the merchandise and negotiating. "Negotiating can go on all day if we allowed it," Verceles said. So to deter that, everyone involved in the trade negotiates set prices before the buying begins. Many of a cooperative's members sell similar items, so price-setting makes it fair for everyone, he says.

Buying at the large markets would be more efficient, but Verceles said he finds better quality and quantity and fairer prices in rural Africa, where he has established relationships with guides, shippers and cooperatives.

Amid all of the business dealings are adventures in culture shock.

On Verceles' trip last February, the villagers of Victoria Falls in western Zimbabwe were expecting him and Burn at 10:30 a.m., but torrential rains delayed the flight, and they didn't arrive until 3 p.m.

For Verceles and Burn, it meant lost buying time. But for the artists, it meant more. In their culture, a person's word is gold. After the two men explained how the weather had delayed their flight, the villagers said they understood that the storm made flying difficult. Still, they asked, "Why were you late?"

On another occasion, Verceles accidentally knocked over an item that, domino-style, knocked over a whole row of goods, damaging some. He ended up buying half the goods that fell.

Learning the rules

He finds empathizing with artists lays a foundation for fruitful trading. Many are more accommodating to a courteous buyer, and if a rapport is maintained, the artists will reciprocate with fair prices and be more likely to fill an order by a departure date. "It's all a learning process," Verceles said. "I made a lot of mistakes."

Verceles and Burn hire guides in unfamiliar territory. Verceles said he "rode the wake of Stu" to find guides, but on trips without Burn, he has had to hunt for his own.

Before he starts traveling, he researches the location of ports by using the Internet, the U.S. Customs Service and talking to other importers. When he's in the countries, he starts networking at the markets, asking around for reputable guides and shipping agents.

The two buyers are careful with their money. They pay for goods up front, but will not pay a shipper until goods are en route. They ship their goods freight collect because if you pay in advance, "your container can go to who knows where. It can go back to Africa."

Once the shipment arrives in Honolulu, the worrying is over.

On the trips, it's go, go, go. But Verceles said he also takes time to enjoy Africa's beauty. His favorite place is the waterfalls along the Zambezi River in Zimbabwe. "You really see how small you are when you stand beside the falls," he said.

He has learned that details matter. After a summer 1998 trip, Verceles painted his store's white walls with the vibrant reds, yellows and greens he saw in crafters' homes. While he declined to reveal exact figures, Verceles credited the change in ambiance for a 10 percent growth in sales from 1998 to '99.

Sales in 2000 were up 20 percent, the result, he said, of finding new artists and keeping inventory fresh. "Each trip we try to find something new," he says, "and see if it works."