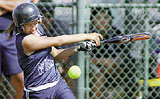 Kamehameha's Courtney Cho swings at a pitch from 'Iolani's Ianeta Lei in the first inning of yesterday's game between the ILH's top two teams. The Warriors won 4-2 in 9 innings.
Eugene Tanner • The Honolulu Advertiser
Kamehameha puts the squeeze on 'Iolani
Kamehameha and 'Iolani are dead even in the race for the Interscholastic League of Honolulu softball championship.

SMU hits UH where it hurt the most
DALLAS - In the city nicknamed "Big D," the Hawai'i men's basketball team played "Short D" and came up short in a 69-56 loss to Southern Methodist yesterday.

New Year's Grand Sumo Tournament
Day 1 hightlights, results of the New Year's Grand Sumo Tournament in Tokyo.