By Ann M. Sato
Special to The Advertiser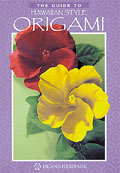 "There is no try. There is only do," Yoda said in "Star Wars."
In the case of Jodi Fukumoto's delightful new how-to book, "The Guide to Hawaiian Style Origami" (Island Heritage, hardback, $9.99), there is no read. There is only do.
This bright-hued volume, sensibly spiral bound (so it stays open while you follow the step-by-step folding diagrams), is almost as good as having Fukumoto, a well-known teacher of the art of Japanese paper folding, right in front of you.
She offers a basic introduction to origami, 14 Island-theme projects (from plumeria to double-hulled canoes) and wraps up with a brief discussion of her trademark use of different papers to create artistic effects.
If you're among those who can't resist a new craft, you'll want this book.
---
Correction: "The Guide to Hawaiian Style Origami" by Jodi Fukumoto was published by Island Heritage. Because of a reporter's error, the publisher's name given on Page E1 of Sunday's Island Life section was incorrect.