Hawaiian Humane Society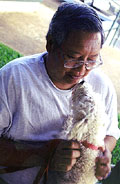 Lawrence Ing and Lady made a return visit to the Hawaiian Humane Society recently; he had adopted the dog last summer and wanted to show the staff how well she's doing. Spending time with your pet can make the new year happier for both of you.

Hawaiian Humane Society

As the guardians of animals, we should include our animal companions in New Year's resolutions and thus make life better for every living thing in our households.

The No. 1 resolution each year for many people is to lose weight. Chances are your pet could be battling a similar bulge; even just a few pounds can create a health risk for a pet.

It is recommended that you visit a doctor before tackling a weight-loss program for yourself, and the same goes for your animal companion. The veterinarian can recommend the appropriate diet and exercise to fit your pet's needs.

If your resolution is to eat healthier food, do the same for them. Pledge not to slip your animal any more table scraps or human cookies, and stop letting him lick ice cream bowls clean. Get the kids involved, so the whole family is consistent. The best animal treat is a diet of quality food geared specifically for your pet's age and activity level. Proper diet helps them live a longer, healthier life.

Exercise? Regular exercise can do wonders for your overall health and even help you lose weight. A brisk daily walk with your dog will benefit both of you. Treat all your animal companions to increased physical activity so you're both more active.

Cats can get hours of fun from a chase toy. A maze can be an exciting activity for guinea pigs and rabbits; mice and rats can run for hours on a mouse wheel.

Is your resolution to learn something new? Animals of any age and kind benefit from learning, too. Training is a fun way for you and your dog to grow closer. In training classes, you can learn to teach basic commands like "sit," "stay" and "heel." Your dog will learn guidelines for acceptable behavior, and you will find it easier to spend time with a well-behaved dog.

Canines aren't the only pets that can learn. Cats, birds and even rabbits can be taught to perform tricks, play games such as hide-and-seek, or to respond to commands like "come" that can be very important in an emergency.

Will you pledge to make a difference in your community? There are things you can do to make the world a better place for your pet. By volunteering with an organization that protects and benefits animals, you will contribute to the community.

Spaying or neutering your companion animal is perhaps the single, most important thing you can do. It ensures your animal will not add to Hawai'i's pet overpopulation problem and is good for your pet's health. The Hawaiian Humane Society has information available about Honolulu's low-cost Neuter Now program.

Perhaps your New Year's resolution is to take better care of yourself (and your pet). The best way to protect your pets is to provide them with identification. Holiday parties and fireworks can easily confuse and scare pets, which can slip out the door unnoticed, become disoriented and lost. An ID is the only way pets can communicate that they need help finding their way home. Write your phone number on your pet's collar with a permanent marker or pick up a free plastic pet ID at the Hawaiian Humane Society.

Our companion animals thrive on the love and attention we provide. They will appreciate any New Year's resolutions you make that include them. Pets respond to attention and love unselfishly. This will be a better year for both of you if you pledge to play, walk, groom, train or cuddle with your animal friend for a few extra minutes every day.