By Virginia Wageman
Advertiser Art Critic

Works by Robert Arneson and Bill Jacobson

The Contemporary Museum

Through Feb. 4

526-1322

Julie Saul Gallery, New York

California artist Robert Arneson (1930-92) dealt with several major themes during his 40-year career, including politics, warfare and race relations. But his favorite subject was himself, beginning in 1965 with a satirical self-portrait bust of "the artist losing his marbles" and concluding with his "Portrait at 62 Years," a sculpture executed in clay weeks before his death and later cast in bronze.

An exhibition at the Contemporary Museum, "This Head Is Mine," chronicles Arneson's long fascination with the self-portrait. Included are works in every medium that he used: ceramic and bronze sculpture, drawing, painting, printmaking.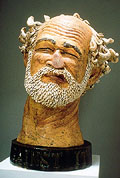 Robert Arneson, "Up Against It," 1978, glazed ceramic. Collection of the Contemporary Museum, promised gift of Eileen and Peter Norton.

The Contemporary Museum

Arneson was trained as a ceramist, and it was in ceramic self-portraits, many of them immense, that he excelled. Though ostensibly the images are not serious, he used them as a means to comment on the history of art, especially alluding to classical art with the Greek columns that are used as bases for the heads. The heads themselves often recall classical marble sculptures, sometimes without eyes, reflecting the Roman manner.

Even the highly colored ceramic sculptures evoke ancient art in that many of the Greek sculptures we see today were originally painted in bright colors that are now worn away. The "Portrait at 62 Years," with its smooth white face and empty eyes, is like the death masks made by the ancients.

Arneson's innovative approach to ceramics - creating heads rather than bowls, for instance, while simultaneously referring to the long tradition of art history - helped move the medium away from the realm of craft to that of fine art (later the bowl would come to be accepted as fine art, too), and it is for this achievement that he will perhaps most be remembered.

Though Arneson's references are to ancient art, his images themselves reflect witty self-mockery - poking out his own eye in "Eye of the Beholder" or smashing in his nose in "Up Against It." His work has often been criticized for its irreverence. His 1981 portrait of George Moscone, San Francisco's assassinated mayor, was quickly removed from display following public outrage.

Arneson said that his intent in his art was not so much to be outrageous as to make light of the human condition, to be humorous and to mock himself. However, the results sometimes seem pompous and self-important, the self-mutilation disturbing. One needs to get past all this posturing to appreciate the fine craft and superb wit evident in his work.

Like Arneson's self-portraits, the photographs of Bill Jacobson, also on view at the Contemporary Museum, evoke historical aspects of the artist's chosen medium - in this instance, faded daguerreotype portraits of the kind found in old photo albums.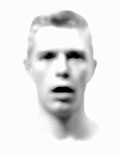 Bill Jacobson, "Interim Portrait #373," 1992, silver gelatin print.

Julie Saul Gallery, New York

Jacobson's intent is to chronicle the human condition, with specific reference to the AIDS epidemic, in portraits that suggest a fading memory. The out-of-focus portraits remove their subjects from everyday contexts and verge on abstraction. These images capture a universal vulnerability - shall we say a soul - that haunts long after the viewing.

In a recent lecture at the University of Hawai'i, Jacobson, who lives and works in New York, said that he was influenced by family snapshots that could be of anyone. Through the power of photography, he suggested, we can have profound feelings for people we don't even know.

"I wanted to communicate the demise of the body and transcendence," the artist said. By intentionally taking away specific characteristics of his subjects, Jacobson has created a powerful and poignant memorial to the anonymous multitudes who have died of AIDS.

The photographed landscapes that are also exhibited refer to memory as well. Like the portraits, the landscapes are abstracted and suggestive of the ephemeral quality of all of nature. The barely discernible images, whether of landscape or of figure, meld together in an provocative statement on the nature of being.

Virginia Wageman can be reached at VWageman@aol.com