By Virginia Wageman
Advertiser Art Critic
Hawai'i and Its People
Honolulu Academy of Arts
Through Jan. 21
532-8700

The Honolulu Academy of Arts has long had a quasi-permanent exhibition of artwork related to Hawai'i, temporary only in the sense that different works are exhibited at different times and the show is moved to whatever space is available at any given time.
Titled "Hawai'i and Its People," the exhibition is always a splendid evocation of Hawai'i's cultural history, especially rich in 19th-century works but also including important pieces from the early years of the 20th century. Such well-known American artists as Charles Bartlett and Georgia O'Keeffe traveled to these shores, and the academy is fortunate to own many of the paintings they did in Hawai'i. Also in the collection are paintings by Big Island's own famed artist D. Howard Hitchcock.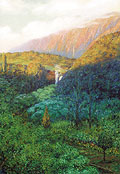 Lionel Walden's "Luakaha: Evening" is one of two paintings of this Nu'uanu scene made by the artist in about 1916.

Honolulu Academy of Arts

Currently on view is a truncated selection encompassing engravings and paintings related to the voyages to Hawai'i of Captain James Cook, the first Westerner to arrive here, and Louis de Freycinet, who led an 1819 French expedition. Also in the exhibition are 19th- and 20th-century landscapes, including dramatic volcano scenes, always a favorite of visiting artists.

What ties the works together is that they are all Hawai'i subjects, whether made by local artists or visitors. All are postcontact, as well, demonstrating Western influences and recording the changes wrought by the arrival of Western culture. Together they present a fascinating pictorial history of Hawai'i.

The big news is that when the new Luce Pavilion opens in May, there will be a 4,000-square-foot gallery devoted to the permanent display of "Hawai'i and Its People," which is a most welcome development. This important collection, unparalleled anywhere, deserves a room of its own.

After the current show closes on Jan. 21, "Hawai'i and Its People" will be under wraps until the grand opening of the Luce Pavilion in May.
---
Correction: Famed artist D. Howard Hitchcock was born in Hawai'i, on the Big Island. A previous version of this story contained incorrect information.