Program was created 10 years ago
2001 schedule for the Parent Project
By Catherine E. Toth
Advertiser Staff Writer
Family must change
Parents learn to take responsibility for their actions through the program. Just as much as the teenager has to change his or her lifestyle, life at home has to change as well. This is where the role of the parent becomes hugely important.
"Now I know it's important, especially for strong-willed children, to give them boundaries and discipline, and lots of love and support," Ching said. "I couldn't do both before. Now I can, because I take responsibility for my actions."
She is able to tell her son she has zero tolerance for drug use, citing the consequences he would face should he break those rules. He can expect certain and consistent responses to his behaviors; this creates stability and structure.
"I treat him with a lot more respect, but I'm more respectable, too," Ching said. "But I keep him accountable. Parent Project was helpful on getting helping me get everything back in balance."
The Parent Project offers these tips for parents:
• Have good timing: Confront the problem as soon as possible. But never confront your child in anger. Take control of your emotions.

• Develop a plan: Start by writing down everything you want to discuss with your child, organizing your thoughts. This will help the conversation stay focused.

• Choose a private, neutral location: Pick a comfortable place to talk, where you can sit close together and face each other. This may discourage yelling.

• Minimize interruptions: Take the phone off the hook and close the door. Set aside enough time for a good conversation.

• Prepare yourself for the worst: Ask yourself, "Am I ready for anything?" Don't show any shock or dismay. Let your child be honest.
Where can parents go when they need help dealing with their teenagers' drug abuse, rebellion, gang membership and other tough and frightening problems?

The Parent Project is a little-known source for hard-to-find solutions to these predicaments.

The comprehensive, community-based program helps parents with their out-of-control children, providing them with practical techniques that many participants have found useful and effective.

What sets this program apart from other classes and workshops is that the Parent Project emphasizes step-by-step instruction on how to change the parent, which in turn can change the child.

The program has been successful even without formally marketing itself.

"It causes a hopeless situation to become hopeful," said June Kawamura, district facilitator for the Honolulu District Office of Parent-Community Networking Centers, part of the state Department of Education, and a former program participant. "Parents learn strategies and tools to turn themselves around. And most importantly, parents learn to love their children again."

The core of the program, offered free to families, is its hands-on workshops and comprehensive workbook ($22), virtually a cheat-sheet on raising teens.

Although the program is praised in several Mainland cities, it often is overlooked by parents here because it is offered only twice a year at limited locations on O'ahu. The next 10-week session on O'ahu begins Jan. 17.

The 10-week program is interactive and covers parenting issues and teen concerns in great detail.

Short lectures are followed by group activities taken from the workbook, "A Parent's Guide to Changing Destructive Adolescent Behavior: A Parent Workbook."

The workbook was researched and written by the program's founders, all from Southern California: a retired police officer, a clinical psychologist, a psychology professor and a developer of parent education programs.

The book reads like a manual for raising teens. It lists different drugs with their street names and complete descriptions. It candidly discusses sex. And it describes gang and occult clothing, drug-related paraphernalia and popular music lyrics laced with sexual, violent and gang- or drug-related themes, and their possible effects on behavior.

A parenting manual

What sets the workbook apart from others is its comprehensive, no-holding-back approach to parental fears, written or illustrated in a way that people easily retain the information.

Geared to reaching adults with different learning styles, the workbook is packed with information in various forms, including pictures, checklists, question-and-answer formats and poems.

Though the program is marketed for parents who have destructive teens, it is not confined to those families.

Trained facilitators stress prevention, and several families with young children have attended to prepare themselves for dealing with these situations as their children get older.

Parent Project is not a guarantee, but it's a start.

"If your kid is not turning it around, all the more reason why parents have to get their acts together," advised Ching. "You can't do that if you're spinning out of control yourself."

Many times the families who attend these session go on networking as a support group even after the program is over.

This is critical for many parents, especially those who often feel alone in their battles.

"The first time parents sit down with other parents who experience the same things, they can feel comfortable enough to be honest," Ching said. "They may not want to admit (what they're going through) to relatives or co-workers."

Techniques that work

The program has helped Judy Ching, a 54-year-old mother of two sons and volunteer facilitator.

Her youngest son was out of control, abusing drugs and engaging in reckless behavior. He was finally admitted into the residential drug treatment program at the Bobby Benson Center in Kahuku.

Ching looked for answers in therapy, family counseling and parenting education classes. While those helped, it was the Parent Project that reinforced everything she had learned, giving her concrete steps to follow and the confidence to help her deal with her son.

"I was picking up things along the way," Ching said. "But the scary part was him coming home. I was scared to death about everything."

She said that unless parents learn techniques that work, the kids who are learning how to combat their own demons will fall into the same cycle as soon as they come home. Educating the family is just as important as helping the high-risk child.

"(The Parent Project) teaches parents the right thing to do when the kid does the wrong thing," Ching said. "It teaches parents how to be the most helpful."

In Ching's case, her reaction to her son's actions weren't helping the situation, she said. Either she was too lax or too emotional, which created an unstable home life for her entire family. "I was losing confidence because everything I was doing wasn't working," she said. "I was getting hopeless."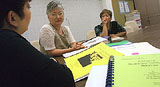 From left, June Kawamura, Judy Ching and Cyndy Sumbad gear up for sessions of the Parent Project. The three are among about 20 facilitators of the comprehensive, community-based program that serves families with troubled adolescents. The facilitators help plan and run the 10-week sessions, which are offered free to interested families.

Jeff Widener • The Honolulu Advertiser
Program was created 10 years ago
Begun about 10 years ago in Southern California, the Parent Project was introduced to Hawai'i two years ago by Hawai'i Island Young Life, a national, Christian-based, nonprofit organization geared toward giving teens healthy life options.
"I just felt like we had something we could really apply practically," said Stan Morikawa, founder of the Hilo chapter. "It had all the components that we at Young Life needed to get parents involved (in their children's lives) again."
The nonsectarian, nondenominational Parent Project currently operates in 23 states.
Hawai'i Youth for Christ picked up the project last year, offering public seminars and Parent Project sessions on O'ahu.
In Los Angeles County and the state of Idaho, the Parent Project has become the largest court-mandated juvenile diversion referral program.
In three years with the program, the dropout rate in Idaho's Minidoka and Cassia counties dropped from 17.2 percent to 0 percent, and school expulsions, from 72 to none.
In Hawai'i, there are more than 20 trained facilitators, most of whom are teachers and counselors. Police officers, social agency members, clergy and former participants also serve as facilitators.
"Parent Project is a methodology, not an organization," said Keli'i Akina, executive director of Hawai'i Youth for Christ, which has sponsored five sessions with 112 adults this year.
"The benefit of this program is that the Parent Project trains parents to intervene in the most destructive behaviors. What I like about it is that it relies upon the parent to be the one who makes the difference in a child's life," said Akina.
2001 schedule for the Parent Project
Programs sponsored by the Honolulu District Parent-Community Network Center:
Jan. 17 at Leilehua High School
Jan. 29 at Paki Hale near Kapi'olani Park
Feb. 8 at Kaiser High School
Feb. 20 at Kaimuki Middle School
March 4 at Mid-Pacific Institute, in conjunction with the Center for Parenting Teens in Crisis
Program sponsored by the Center for Parenting Teens in Crisis:
March 4 at Kapolei High School, Castle High School and Roosevelt High School/Mid-Pacific Institute
Programs sponsored by Hawai'i Island Young Life in Hilo:
Jan. 17 at Waiakea Intermediate School
Jan. 25 at Pahoa Elementary School
Jan. 30 at Queen Lili'uokalani Children's Center
Information
To enroll, call June Kawamura at 733-4737.
To become a facilitator, call Stan Morikawa at (808) 981-2522.
Online: www.parentproject.com