By Yasmin Anwar
Advertiser Staff Writer
It's a familiar sight on the steps of Honolulu's historic Kawaiaha'o Church at the corner of King Street and Punchbowl: a picture-perfect Japanese bride and groom emerge from their wedding vows into a shower of sunlit flower petals.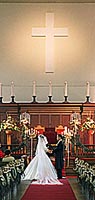 The future Mr. and Mrs. Junji Machino flew in from Japan to exchange vows at Kawaiaha'o Church. Many Japanese couples find the allure and bargain of being married in the historic church too good to pass up.

Bruce Asato • The Honolulu Advertiser

Other churches throughout Hawai'i engage in the same business, supplementing their budgets by offering wedding services to Japanese tourists eager to be married in the Islands' historic houses of worship. At least 30,000 ceremonies for Japanese nationals were performed last year alone.

In the case of Kawaiaha'o, the idea to mass market as many as 10 weddings a day at a cost of $750 per wedding has placed $1 million a year in coffers that had seen only a third that much before the business began in 1984.

But it also has caused an unprecedented rift in the church, provoking a contentious legal fight and leaving deep scars. And although the lawsuit was settled last month for an undisclosed sum, it shed an unwelcome spotlight on the inner workings of the coral stone church known as Hawai'i's Westminster Abbey.

The legal saga, known as Mack Hamada v. Kawaiaha'o Church, is 14 fat volumes of court documents that describe a church fractured by a power struggle, with each side blaming the other for trying to control the Japanese wedding venture and the lucrative dollars it brings.

Contained in thousands of pages of legal documents are charges of avarice and corruption, manipulation and favoritism, breach of contract and delinquent payments, and this core question: what is the mission of Kawaiaha'o Church?

"Our mission is to love God and take care of each other," said head deacon Kauilani Ramos, who briefly was chairwoman of the board. But somewhere along the way, she said, that mission got lost because of "greed."

From worship to weddings

Named after springs used for bathing and purification by Ha'o, a Hawaiian of chiefly rank, the church was built by Congregationalists from New England who brought the United Church of Christ to Hawai'i.

In 1842 the church opened its heavy koa doors to more than 5,000 worshippers. It incorporated in 1911 as a nonprofit entity serving purposes "purely those of religion, charity and education."

Kings and queens were baptized, crowned and eulogized within its walls. The bylaws called for the kahu, or head pastor, to be of Hawaiian ancestry, to speak Hawaiian, and hold "the unique responsibility of serving the membership, the Hawaiian people, the community, the state, the nation and the world."

But over time Kawaiaha'o's membership waned, and with it the church's financial fortunes. With the congregation dwindling and tithings low, the church barely was able to pay its kahu when Honolulu lawyer and businessman Mack Hamada approached the Rev. Abraham Akaka in 1983 with an entrepreneurial idea so savvy that it helped more than triple the church's income over the next decade.

That idea, establishing what amounted to a Japanese wedding factory, did much to fortify the finances of the famous old church even as it provided the businessman an exclusive contract to provide deluxe wedding packages of "royal weddings."

But Hamada's honeymoon with Kawaiaha'o ended abruptly in 1996 when the board of trustees severed the church's contract with his wedding brokerage firm, Fantasia International Trio Inc., which was to run through 2002.

Hamada fought back with a lawsuit seeking more than $4 million in damages for breach of contract and defamation. A confidential settlement was finalized Dec. 6, with the church agreeing to pay Hamada an undisclosed sum.

The Rev. James Fung, Kawaiaha'o's new kahu, who took the helm of the church last year after more than 30 years on the Mainland, said he had pushed for a settlement with Hamada.

"It was my goal to quietly resolve the dissension of the past and move the church into the future," he said.

Mitsuo Shito, chairman of Kawaiaha'o's nine-member board of trustees and a former state legislator, concurs that the dispute was best kept out of the courtroom.

"Kawaiaha'o is Hawai'i's mother church. We didn't need all this exposure," he said. "The settlement was fair."

But other church members say the dust hasn't settled and the wounds are still fresh. "So much has happened," said head deacon Ramos. "We surely need a real good cleanup and a healing."

The target of Hamada's case was David Free, a resident of California who came to Hawai'i in 1976 and rose through the church ranks to head the board of trustees for nearly a decade before he was ousted in a church election in 1998.

Lawyers for Hamada contend that Free, 65, production director of the local publication Pacific Business News, sought to bring the lucrative wedding business under the control of the board of trustees.

They say the employee who profited most from the maneuver was Richard "Buddy" Naluai, Free's close friend, who joined the church as a part-time organist in 1984 and was promoted to director of music and performing arts in 1990 at Free's urging.

In addition to his regular salary, Naluai, 55, held a separate contract to play the organ at Japanese weddings, making him the church's highest-paid employee at $112,350 in 1995, the peak of Kawaiaha'o's wedding boom, according to court documents.

In a counterclaim, lawyers for the church contend Hamada's contract with Kawaiaha'o carried little or no weight because the state dissolved his company in 1992 for failing to comply with corporate requirements, and that he never notified the church.

Relationships sour

Attorneys for the church say Hamada fell behind in payments in 1996 after he doubled the price of weddings to more than $1,500, causing the number of ceremonies to plummet by 50 percent.

"Such drastic reduction in the number of weddings has a critical and detrimental effect on Kawaiaha'o's own financial condition," the counterclaim says.

Church attorneys also noted that Hamada was convicted in 1992 of theft for stealing more than four dozen boxes of frozen lobster and crab legs from Aloha Pacific Seafood Inc. in an alleged scheme to bankrupt the business. Hamada pleaded no contest to two counts of second-degree theft and was fined $50,000 and placed on five years' probation, according to court documents.

The church's attorneys also asked that references to Free's close friendship with Naluai be prohibited at the trial, citing lack of evidence and relevance.

But Hamada's attorneys countered that the friendship is evidence of Free's motivation to augment Naluai's income. "Plaintiff will merely show that Free improperly terminated the contract with the plaintiff in order to benefit Naluai," they said.

Free declined last week to comment on the lawsuit other than to say, "We simply canceled the contract because we felt (Hamada) had breached it and was not promoting Japanese weddings. ... It's over for me. I'm out of there."

Hamada, 76, former head of the Hawai'i Employment Relations Board, also declined comment. Naluai could not be reached for comment.

Japanese see sweet deal

Roy Benham, a former Kawaiaha'o trustee, said Japanese weddings are not unique to Kawaiaha'o Church, but the lawsuit that grew out of it is devastating to the institution because of the church's distinguished place in Hawai'i history.

"I think the Japanese wedding business has had an impact on a number of Hawai'i churches that struggled financially and all of a sudden got quite a lot of money," Benham said. "Some churches were not prepared for the windfall."

Isao Yamanaka, assistant sales director for Watabe Wedding Corp., the state's largest wedding broker, said Kawaiaha'o Church is among Hawai'i's 10 most popular wedding chapels for Japanese couples.

Japan-based travel wholesalers typically contact local Japanese wedding companies, which make reservations at wedding chapels and provide limousines, flowers, photography and other services.

Yamanaka said such packages in Hawai'i cost Japanese couples between $5,000 and $7,000, including air fare, hotel and a small reception. They are a bargain compared with the $20,000 to $50,000 that a ceremony and reception can cost in Japan.

Thousands of pages of legal documents in the Hamada vs. Kawaiaha'o Church lawsuit, including minutes of board meetings, internal church correspondence and other memos, show that Hamada approached the church in 1983 with the idea of offering a bargain to Japanese couples planning to get married where kings and queens once worshipped. He and Akaka began to hammer out an agreement in which Hamada would pay the church $250 for each wedding.

Soon thereafter, Akaka retired. The Rev. William Kaina took his place in 1984, and Naluai was hired as a part-time organist.

The wedding business got off to a slow start, but as it grew, so did Hamada's payments to the church. By 1993, court documents show, Japanese weddings were bringing in more money than ever, with as many as 10 ceremonies scheduled a day. In addition to his $24,000 salary as music director, Naluai was receiving $45 per Japanese wedding from Hamada.

Still, Naluai threatened to resign unless he got a pay raise from the church. "I cannot continue to serve in a capacity where I feel I am not adequately compensated," he wrote in a resignation letter to trustees. His pay was boosted to $32,000.

Money matters take over

By 1996, Free's sphere of influence at the church was wider than ever. He was chairman of the board of trustees, church moderator and deacon for life. He sat on several committees and was taking a growing interest in the Japanese wedding business.

"This is our biggest money maker, and we're not giving it enough attention," he told trustees during a January board meeting when he proposed hiring a full-time wedding coordinator.

That April, Hamada raised the price of weddings to $1,570. Free blamed the price increase on a drop in weddings at Kawaiaha'o. It didn't help Hamada that he had fallen behind in his payments to the church and was out of state for several months caring for his ailing son in Colorado.

Free wrote to Hamada saying he owed $159,063 in back pay for three months, and needed to pay up by the month's end. Hamada paid part of the debt, but Free was already laying the groundwork for an in-house wedding business, court records show.

On Oct. 1, Hamada received a letter from the church's attorney, Jay Suemori, informing him that his contract had been terminated, and that the $45,410 he still owed needed to be paid within 30 days. The letter said Hamada had breached his contract by spending too much time out of state and failing to inform the church of the 1992 dissolution of his business.

The next day, trustees voted at a special meeting to end Hamada's contract and set up a separate for-profit wedding center.

In an Oct. 20 letter to kahu Kaina explaining the board's takeover of the Japanese wedding venture, Free wrote, "Unfortunately greed and deceit infiltrated the wedding operation of the past, but the trustees are dedicated to seeing that this function be conducted in an ethical, professional and a God-principled manner in the future."

Meanwhile, Hamada hired Ho-nolulu attorneys Wayne Sakai and Mary Lucasse to represent him in his claim against Kawaiaha'o, making the allegations contained in his 1997 lawsuit.

Congregation divided

Once Hamada was gone, a tug of war arose over control of the Japanese wedding venture, and Kawaiaha'o's congregation splintered.

In a February 1997 letter to trustees, church administrator Matsuo Machado and accountant Rosita Jacinto asked that the wedding operation be returned to the church office, because it was unnecessarily costly to the church, confusing for accounting purposes and dividing the church 'ohana.

"The employees are beginning to lose the team concept," they wrote. "It is now 'us' and 'they' instead of 'we.' "

The trustees unanimously voted to deny their request. Free said the program would continue "under the guidance of the board of trustees" and announced that the wedding administrator would report directly to him.

As Kaina prepared to retire as kahu in November, he too appealed to trustees to bring the wedding operation back under the body of the church.

"I know how lucrative these weddings have become," he wrote in a 1997 letter. "However, I, too, agree that royal weddings belong to the church's pastorate. Placing priority on weddings for income-generating purposes over the Ministry of Weddings to perform sacred Christian marriages is not pono or right and proper."

Free wrote back the next day, assuring Kaina that the trustees would honor his request.

But a year later, in a letter welcoming the Rev. Ronald Ching as an interim kahu, Free said the Royal Wedding Center had been established with the blessing of Kaina. He noted that the setup was working well and that there was no reason to change it.

A nationwide search for a permanent kahu was under way, and Free proposed that the Hawaiian language requirement be relaxed to expand the candidate pool.

But some church members objected to changing the bylaws, and worried that trustees would install a weak kahu who would allow the board to continue to run the wedding center.

At the same time, the membership was growing increasingly disenchanted with Free, and he was ousted from the board in a vote at Kawaiaha'o's semi-annual membership meeting in April 1998.

After a two-year search, Fung, 52, was selected to run the church in June 2000 after serving as the pastor of Portage United Church of Christ in Michigan. Last week he said that Kawai-aha'o's Japanese wedding program is running smoothly and sees no reason to change it. Kawaiaha'o's budget for 2001 is $1.4 million, with the majority of the revenue again expected from the weddings.

"The royal wedding program has been helpful in allowing us to spread the Christian message," he said.

His New Year's Eve sermon at Kawaiaha'o was titled "It's a New Beginning."

Grievances linger

Though the lawsuit against the church was settled, another may soon emerge.

Four of Kawaiaha'o's six custodial staff members received layoff notices Dec. 7, a day after an announcement was issued that Hamada's case had been settled out of court.

Among them were longtime buildings and grounds superintendent John Kahooilihala, 57, and custodian Kalani Morris, 44, whose depositions supported Hamada's claims. Kahooilihala's wife and son also are custodians and received the notices.

Church trustee chairman Shito cited cost-cutting measures for his proposal to switch to an outside contractor on Feb. 1, and invited employees to apply for a job with the new contractor. But Kahooilihala and Morris contend their layoffs are payback for their depositions in the Hamada case, and their lawyers have notified the church they are considering legal action.