By Scott Ishikawa and Robbie Dingeman
Advertiser Staff Writers
City bus riders yesterday had a clear message for the City Council on any fare increase: Just don't raise the price of the monthly bus passes.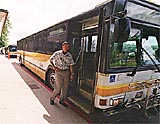 The City Council wants to raise the adult bus fare to shift more of the transit system's operating costs from the taxpayers to the riders.

Advertiser library photo • Aug. 21, 2000

The Honolulu City Council is considering an increase in bus fares to shift more of the cost of operating city buses from taxpayers to riders. City Council chairman Jon Yoshimura last week said he hasn't committed to a specific increase, but would personally prefer increasing the single-ride, cash fares instead of the monthly bus passes used by frequent riders.

"What I'm trying to do is make it fairer for our taxpayers, who I believe are paying a disproportionate amount of the operation of our city bus," Yoshimura said yesterday. "But I would prefer to have the fare increase affect the occasional rider and tourists who use the bus, and try to protect the frequent rider.

"But this is a decision the council will make as a whole. If the council feels the need for a slight increase in the monthly pass, I would go along with it."

If the monthly bus pass fee were increased, Yoshimura said he would propose an annual or semiannual rider pass comparable to the current monthly rate.

Yoshimura estimates that raising the adult single-ride fare from $1 to $1.25 would bring in about $3 million more. Increasing it to $1.50 would increase revenue by about $5.5 million.

The last time the city raised the bus fares was 1995. The price of an adult bus pass went from $20 to $25, single adult fares from 85 cents to $1, and youth fares from 25 to 50 cents.

TheBus is the 18th most-used transit system in the nation, with about 240,000 daily riders.

What's next?

The City Council Transportation Committee will hold a hearing at 2:30 p.m. tomorrow to help form a bus fare policy. The meeting will be held at the council Committee Room at Honolulu Hale.

In the past, Mayor Jeremy Harris has opposed a fare increase out of concern that it would discourage ridership, which the city wants to encourage to help ease traffic congestion. In 1999, an attempt by then-council Chairman Mufi Hannemann for an across-the-board bus fare increase failed.

There are several factors behind the proposed bus fare hike:
A sharp increase in diesel fuel left TheBus with $2.2 million in increased fuel costs last year.
A widely accepted industry standard for municipal bus systems that about 30 percent of operating costs should be paid for through ridership fees. TheBus' annual operating budget is $102 million, with $27 million of it from by riders.
Most riders interviewed yesterday were willing to go along with an increase, as long as the fare hike didn't affect frequent riders, including the elderly, handicapped and those living on limited income.
Steve Takasane, 51, of Pearl City, felt a 25- or 50-cent increase for the one-way bus fare was reasonable.
"We haven't had an increase in a while, for $1.25 or $1.50, it would still be a good bargain," said Takasane, who was waiting at the Beretania Street bus stop across from the state Capitol. Because of a disability, he uses the bus to get to his doctor's office in downtown Honolulu.
Charles Overman, a 69-year-old retired schoolteacher, said his only concern is if the city increased the price for monthly bus passes, particularly since the elderly make up a substantial portion of bus ridership.
"It's kind of like choosing between the lesser of two evils: raising the bus fare or raising property taxes," said Overman, who said a medical condition prevents him from driving. "I do believe its fairer to raise user fees because people directly use the services."
If a bus fare hike does occur, Waialua resident Heather Kauhane said regular bus riders should use the opportunity to suggest ways to improve city bus service.
"If they want to raise the fare, the customer should give their input on what could be done better," said Kauhane, who gets around in a wheelchair. "I would like to see every city bus traveling to the North Shore to be equipped to handle all wheelchair passengers. The newer, bigger bus models have the ability to lift wheelchair passengers aboard, but some of the older models have a hard time accommodating my wheelchair.
"But the bus service is on time and consistent," said Kauhane, waiting on Beretania yesterday with her grandchildren, Sheela and Blaze Castro, for their ride home. "So most riders would be OK with an increase."