By Eloise Aguiar
Advertiser Windward Bureau
When a Kahalu'u orchid grower closed his business after 22 years, thousands of flowers faced destruction, but with the aid of a Waimanalo nursery man, the plants have survived to benefit the Windward unit of the American Cancer Society.
Where to buy
What: Orchid sale to benefit the American Cancer Society.
When: Until orchids are sold.
Where: C & L Orchids, 41-665A Kaulukanu St., 259-6344.
Note: Most of the donated orchids are dendrobium, with a few cattleya and epidendrum available.

Hoala Orchids sold its Kahalu'u greenhouse property Dec. 22 with more than 10,000 dendrobium plants to dispose of, said Byrde Cestare, executive director of the cancer society's unit in Kailua.

The plants' future was uncertain until Hank Liljedahl, president of Dendrobium Orchid Growers of Hawai'i, agreed to help. He tried first to enlist other orchid lovers, but few could handle the volume. And the plants had to be moved by the end of December.

Fortunately, Liljedahl was in the midst of expanding his business, C & L Orchids, having just moved from a greenhouse that was less than an acre to one that is 4 1/2 acres. He took in the potted plants, will care for them and sell them, giving the Cancer Society a guarantee on each plant that adds up to a total of more than $13,000.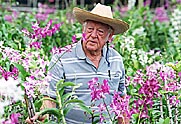 Hank Liljedahl of C&L Orchids in Waimanalo will sell about 6,000 orchids to benefit the American Cancer Society's Windward unit.

Deborah Booker • The Honolulu Advertiser

"It's a little more than what I had bargained for," said Liljedahl, who has raised orchids for 15 years. "But I had a sister that died a few year ago from cancer, so I have a vested interest."

The owners of Hoala Orchids, who wish to remain anonymous donors, also have a connection with a cancer patient and said they are giving the plants in hopes of helping a friend. Downplaying their role, they said Liljedahl relieved them of having to sell the plants or destroy them.

Cestare said the donation has had a twofold effect. Not only will the organization receive money, but the donation has put her in touch with people who knew little of what the Cancer Society has to offer.

"What goes around, comes around," she said.