By Dayton Morinaga
Advertiser Staff Writer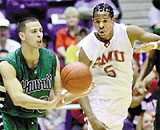 Hawai'i's Carl English gets off a pass to a teammate just before SMU's Jeryl Sasser could move in to intercept.

DALLAS - In the city nicknamed "Big D," the Hawai'i men's basketball team played "Short D" and came up short in a 69-56 loss to Southern Methodist yesterday.

Playing without injured center and co-captain Troy Ostler, the Rainbows were beat where it hurt the most - down low - before 2,306 fans at Moody Coliseum, and a regional television audience on Fox Sports Southwest.

On a trip that proved to be harsher than the cold temperatures in Dallas, Hawai'i opened its Western Athletic Conference season 0-2 in Texas. The Rainbows fell to 6-7 overall with their third consecutive loss. SMU improved to 11-3 and 2-0.

"We are not as strong as we could be at this point because we don't have the inside game," Hawai'i coach Riley Wallace said. "But we have to understand that we still have some talent on the floor. That just means we have to do little things like be patient and work for shots on offense, and box out for rebounds on defense."

Instead, the Rainbows did not do enough of either.

Hawai'i made 24 of its 65 shots (37 percent), including 7-of-22 (32 percent) from 3-point range, which resulted in its lowest point total of the season. In the decisive first half, the Rainbows were a dismal 11-for-33 from the field and 2-of-12 from behind the arc.

"And the game plan was not that," Wallace said. "The game plan was not to even look for a shot until we made two or three passes, but guys were rushing to shoot 3's and so they were missing."

Rather than playing like Hoosiers, the Rainbows tried to match the Mustangs shot-for-shot in the first half, a tactic that worked in favor of the bigger and more athletic SMU starters.

"We would play together, then break down, then play together, then break down," said Hawai'i guard Predrag Savovic, who scored a team-high 16 points. "It was not enough of the playing together."

Rainbow freshman reserve guard Carl English, who finished with career-highs of 10 points and eight rebounds, added: "We would get in the swing of the offense, and then get excited and throw up some wild shots. We just needed to settle down, because when we played within the offense, we hung with (SMU)."

Indeed, when the Rainbows slowed the pace in the second half - after a stern halftime lecture from Wallace - the game was a virtual deadlock, with each team scoring 31 points.

Problem was, Hawai'i entered the intermission trailing 38-25.

Early in the second half, the Rainbows went on a 9-0 run to cut the SMU lead to 44-39, but the Mustangs answered with a 13-0 surge to avoid any late-game drama.

In addition to their poor shooting in the first half, the Rainbows were out-rebounded 31-12. For the game, SMU finished with a 49-31 advantage on the boards.

"Hawai'i was hurting inside, no question," SMU coach Mike Dement said. "But we rebounded very well, especially in the first half."

What's more, the Mustangs continuously attacked the inside of the center-less Hawai'i defense. Willie Davis, a 6-foot-6, 230-pound forward, muscled his way to 16 points and nine rebounds; Damon Hancock, a 6-4, 200-pound point guard, consistently drove past Rainbow defenders for 17 points.

Jeryl Sasser, a 6-6 guard who is SMU's best player, scored just nine points - half of his average - but hurt Hawai'i with game-highs of 12 rebounds and eight assists.

Most telling, the Mustangs attempted only four 3-pointers, making two. In the second half, each of SMU's 12 made field goals came from within five feet of the basket.

"They're not stupid," Wallace said. "They realize we don't have that big man in there to contest shots and grab rebounds."

When the Mustangs weren't making point-blank shots, they were shooting free throws. Hawai'i was called for 21 fouls, resulting in SMU shooting 17-for-28 from the free-throw line. By comparison, SMU committed 10 fouls, which led to the game's most stunning statistic: Hawai'i made just one trip to the free-throw line, with Savovic going 1-for-2.

Wallace, however, had no complaints about the officiating.

"(SMU) created fouls by taking us to the basket," he said. "We didn't go to the basket. We shot 22 3's."

Dement said he learned of Ostler's status moments before the game, although he had already devised a strategy to challenge the Rainbows near the basket.

OVER AND BACK: Hawai'i guard Mike McIntyre played for the first time since spraining his right ankle two weeks ago. He finished with two points in 20 minutes. ... Reserve center Todd Fields, who grew up near Dallas in Mesquite, Texas, tied his career-high with eight points while playing in front of more than 20 friends and family members. ... The Rainbows will return to Honolulu today.