By Will Hoover
Advertiser Staff Writer
When it comes to our collective psyche, the house-calling doctors of yesteryear occupy a position of special reverence. We're comforted by notions of some sage Marcus Welby selflessly visiting home after home, snapping open his little black bag and curing all that ailed Grandma.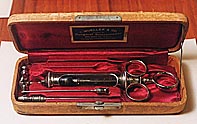 This syringe set was manufactured in Chicago circa 1890.

Richard Ambo • The Honolulu Advertiser

Missing from this charming scenario are the specifics of the doc's bag. We imagine wooden tongue depressors, balls of cotton and perhaps bottles of little pink pills.

The truth was less warm and fuzzy, as we learn from "What's in The Bag? An Inside Look at Physician's Bags Over the Past Two Centuries," a free exhibit now showing at the Mamiya Medical Heritage Center in the Hawaii Medical Library building in downtown Honolulu.

Think implements of torture and you're closer to it: cold steel bone saws, fierce, hide-piercing suture hooks and metallic hypodermic syringes fat as tin cans. There's an 1850 Bauncheidt's Lebenswecker, a terror-inducing instrument with 30 needles that was used in blood-letting. Pink pills? No, but the goodly doctor a hundred years ago came ready to dispense some really nasty looking off-brown arsenic tablets.

'What's in The Bag?' exhibit
8 a.m. to 8 p.m. Mondays-Thursdays, 8 a.m. to 5 p.m. Fridays, 9 a.m. to 5 p.m. Saturdays; through March
Mamiya Medical Heritage Center, Hawaii Medical Library building, 1221 Punchbowl; 536-9302, ext. 112.
Free

"This is a look at how the contents of doctor's bags have changed over the years," said Leilani Marshall, research librarian at the center, which is next to the Queen's Medical Center.

"Like this hypodermic syringe kit from the 1800s, which has vials of cocaine and strychnine that you would add water to and then inject into the body. Doctor's bags came in all shapes and sizes, from small to the classic black bag to some that stand so tall we couldn't fit them in the display cases."

The three display cases that highlight the half-dozen different doctor bags and their contents qualify as one of the smaller, easy-to-swallow museum exhibits in town. Two of the bags, from early to mid-20th century, belonged to local physicians J.I.F. Reppun and Frank J. Putnam.

A few display items are more fascinating than frightening. For example, a replica of a foot-long, solid-wood Laennec stethoscope from 1816 looks more like an exotic flute. A late-19th-century leather doctor's "bag," from the Wilhelm Walb Company of Heidelberg, Germany, unrolls instead of opening like a suitcase.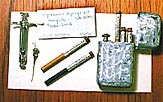 A hypodermic syringe kit from the late 1800s is part of the free exhibit running through March at the Mamiya Medical Heritage Center.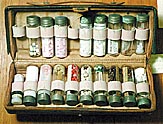 This leather pill case was used by Dr. J.I.F Reppun of Molokai.

Richard Ambo • The Honolulu Advertiser

With the exception of a stethoscope from the 1950s, Marshall says almost none of the black bag devices are used in medicine today. Their value, other than the fact that they are so intriguing, is that that illustrate how far the medical field had progressed in the last few decades.

The Mamiya Medical Heritage Center, a medical museum and archives, was established in July of 1999 by heart specialist Dr. Richard T. Mamiya. It is housed in the Hawai'i Medical Library building at 1221 Punchbowl near Queen's Hospital. "What's in The Bag?" is in the building's ground-floor lobby.

Most of the devices in the collection were donated by Honolulu physician and medical historian Dr. Charles Judd, who himself made thousands of house calls before his death in 1987.

"We have come a long way in medicine," said Mary Judd, who helped her late husband acquire much of his historical medical collection. "My grandmother died of appendicitis. It has just been in the last century that they could save a person with appendicitis.

"The history of medicine is just fascinating. It allows us to see how we arrived at where we are today."

Judd said the doctor's bag display represents only a tiny portion of the museum's instrument collection. There's plenty more to see. New medical exhibits will be mounted every quarter.

Portions of the display can also be found in the center's virtual museum Web site.

Medical library open to public

The Mamiya Medical Heritage Center is a department within the Hawaii Medical Library on Punchbowl Street, next to the Queen's Medical Center. And although not many people realize it, both the center and the library are open to the public every day except Sunday.

"The reason some people don't know about it is because for many years this was a private medical library," said Leilani Marshall, research librarian at the center. "It was only used by physicians."

But since the mid-1980s, when the library became affiliated with the Queen's Health Systems, its books, journals, videos and collections have been available to anyone who cares to use them.

It's not like a public library in that materials cannot be checked out, said Marshall. However, all materials can be read, examined or copied at the library. In addition, the library has a range of other information services. For details, inquire at the library reference desk or call 536-9302, ext. 108.