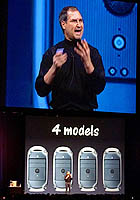 Apple Computer CEO Steve Jobs announces new Macintosh computers yesterday during his keynote speech at the MacWorld Expo in San Francisco. Apple is trying to reinvigorate its product line with software that lets consumers easily edit video and music. See story.

Associated Press
---
Aloha Airlines cuts flights, lays off 15 workers
Aloha Airlines cut flights and employees this week to cope with a sagging interisland market, laying off roughly a dozen people and furloughing others.

Liberty House not sure about keeping downtown store open
The future of Liberty House's downtown Honolulu store is in limbo as the Hawai'i retailer, fighting to emerge from bankruptcy, said yesterday it may reject its Fort Street lease.

Click
Screen gems: Sanity-saving work station diversions
Screensavers actually used to fulfill the function that their name suggests, though nowadays they seem to save the sanity of the computer slave more than anything else.
---
To Our Readers
The Advertiser features a new daily mutual funds listing and expanded Nasdaq Stock Market listing. See these new features in the Business section of the morning newspaper.