USA Today
It was never a happy marriage, and now it looks like Buddy and Socks, the White House pets, are heading for Splitsville.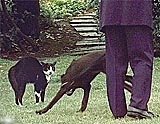 Socks, who was not fond of fellow White House pet Buddy, is out. He'll go to live with Clinton presidential secretary Betty Currie.

Associated Press library photo

Socks, the black-and-white cat who never much liked Buddy the chocolate labrador, is expected to be adopted by Betty Currie, President Clinton's secretary, who is leaving the president's employ. She became a close FOS (Friend of Socks) once he figured out she always had tasty tidbits to share.

Irrepressible Buddy, who came on the scene in late 1997, will divide his time between the Clintons' $1.7 million estate in Chappaqua, N.Y., and their new $2.85 million mansion on Embassy Row in Washington.

It may be a letdown for the first cat, perhaps the most famous White House cat ever, who used to putter around the grounds on a 30-foot leash. Adopted as a kitten by Chelsea, who found him living under her piano teacher's porch in Little Rock, Socks went on to raise money for charity by starring in Hillary Rodham Clinton's 1998 book, "Dear Socks, Dear Buddy: Kids' Letters to the First Pets."

"I met him many times," says Jay Jacob Wind of Arlington, Va., president of the Socks the Cat Fan Club. "He never scratched, he let everyone pet him and he greeted everybody. He really knew how to work a rope line."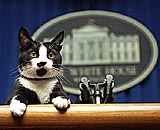 Socks the cat peers over the podium in the White House briefing room in this March 19, 1994 file photo. A White House groundskeeper was walking Socks when he stopped and lifted Socks to the podium.

Associated Press library photo

So why are the Clintons giving up Socks? No one is saying.

Although technically he's Chelsea's cat, he can't stay with her while she's living at Stanford. By all accounts, Currie likes him and maybe she deserves something after the Monica Lewinsky/impeachment mess, when she was dragged before a grand jury.

Meanwhile, President-elect Bush, who bragged that he fed his two cats himself every morning and talked about how much he missed them on the campaign trail, nonetheless has given up one of them: Ernie, a ginger-and-white stray who was rescued from a tree on the grounds of the Texas governor's mansion in Austin a few years ago, will live with a family friend.

The Bushes may have feared furniture damage from Ernie, who has all his claws on his six-toed paws. The other Bush feline, India, a black cat, is older, better behaved and declawed.

India will move to the White House on Jan. 20 along with the two Bush dogs: Spot, an English springer spaniel and daughter of former president George Bush's dog Millie; and Barney, a Scottish terrier puppy who was a recent gift from New Jersey Gov. Christie Whitman to Laura Bush.