By Beverly Levitt
Special to The Advertiser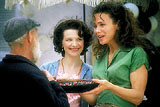 Juliette Binoche, left, and Lena Olin in a scene from the motion picture "Chocolat."

On the set of the new film "Chocolat," director Lasse Hallstrom hired a chocolate maker to keep a pot of hot chocolate on boil during the entire shoot. When the drink would look weak, the chocolatiere would throw a little more chocolate into the pot. In her spare time, she made captivating chocolate candies with names like the Nipples of Venus, so Juliette Binoche's Mayan Chocolate Shop in the film would always be fully stocked.
Chocolate, perhaps the most alluring aroma in the world, permeated the made-for-the-movie chocolaterie at Shepperton Studios in London for weeks. "The set smelled of chocolate all the time," laughs Joanne Harris, author of the novel "Chocolat" (Viking Penguin, 1999) on which the film is based. "It was a magnet for everyone working on every other show. They had to stop by for a whiff. They couldn't help themselves."
The unparalleled power of chocolate is the reason Harris decided to write the novel. "There is no other food that solicits the complicated sweetness of sin," she says. "Its essence is so delectable, you feel guilty for enjoying anything that much."
That's why the villain of the film, the hypocritical arbiter of acceptable behavior, Alfred Molina, who plays the small town's mayor, could call the chocolatiere, Vianne (Juliette Binoche), "shameless" and proceed to pen sermons on the enormous evil of sweets. (Molina confided to me that, in reality, he does think chocolate is decadent, but definitely not evil.)
"I could have made Vianne (Binoche) a cheesemaker or a pastry chef," Harris muses over breakfast at the Four Seasons hotel in Los Angeles, "but it wouldn't have connoted the same passion. If I took 500 people and asked them to sum up the word chocolate, half of them would say 'forbidden'; the other half would search for the superlative of delicious."
"Chocolate is forbidden fruit. People feel deliciously wicked when they're eating it - it tastes too good. All sorts of things are fattening, but they don't make people feel naughty. If chocolate was as healthy as spinach, it wouldn't be half as enticing. Can you imagine Mummies saying to their babies, 'Finish your chocolate or you can't have any pudding,'" she laughs. "You have to have forbidden fruits in your life. Or life wouldn't be worth living. That's what the book is really about."
Not for women
"Chocolate was used in ancient Mayan and Aztec religious ceremonies as a mood-altering drug. It put you into a trance, so you could commune with the gods," Harris explains. "Of course, women weren't allowed a sip of the strong, bitter substance (sweetness wasn't a part of these concoctions) because the fair sex wasn't considered 'spiritually ready.' That was another reason I chose to make my heroine a chocolatiere."
Not only do Vianne's chocolates taste heavenly; one bite of her candy or sip of her hot chocolate (made with chili peppers, a Mayan recipe thought to have medicinal properties) would have her patrons pouring out their hearts, confessing their pent-up frustrations and taking the first step toward changing their lives.
Said Harris: "Vianne is not only a master chocolatiere; she's the Mona Lisa, the Virgin Mary, the mother who doles out unconditional love with every bite."
Vianne and her daughter Anouk (Victoire Thivisol) blow into the small French town of Lansquenet at the beginning of Lent. They rent some rooms and magically transform them into a colorful, whimsical but spiritual chocolate shop. But these aren't mere confections Vianne is selling. When a patron enters the shop, Vianne asks them to spin a primitive Mayan plate, then tell her what they see.
Of course, their answers are revelatory - the still beautiful widow Armande (Judi Dench) talks of her youthful passions and the excruciating ache in her heart because her daughter Caroline (Carrie-Anne Moss) withholds her grandson from her, accusing her mother of being too decadent.
When frumpy housewife Josephine (Lena Olin) enters the shop, she steals a piece of chocolate moments before Vianne guesses which flavor would be her favorite and graciously presents her with the same flavor she had snatched. We learn that Josephine is bedraggled and downtrodden because of her vicious husband, who beats her. (He's the one character in the film beyond redemption.) Inspired by Vianne, Josephine gets the strength to stand up to her horrible husband and abandon her ailing alliance.
Under Vianne's tutelage, she learns to be a chocolatiere, a trade that leads to her independence and success. At the movie's end, Josephine takes over her dearly departed husband's cafe, nourishing the rest of the townspeople as Vianne had nourished her.
The standing joke in the film is that although Vianne can guess everyone's favorite flavor of the "gift from the God's," with Johnny Depp, her designated love interest, she has to try out three different chocolates before he shyly admits he's not a candy lover; it's the soothing, nourishing hot chocolate he craves.
Mayor's discovery
The mayor, on the other hand, is always punishing himself, practicing his penitence by denying his palpable yearning for the sweet stuff. He's morally ascendant as he imbibes healthy hot water with lemon, no matter that his nose wrinkles in disgust as he's doing so.
Finally, after turning the whole town against Vianne, in his quest to cleanse the evil sweet from their midst, he sneaks into her chocolate shop in the middle of the night - determined to destroy it - but alas, his plans are dashed and he ends up succumbing to its sweetness.
Tainted by the tiny morsel of chocolate accidentally resting on his lip, he's immediately transformed. The pious penitent becomes a wild man, cramming every last chocolate he can grab into his mouth. He ends up on the floor, quite possibly the only man in recorded film history to get drunk on chocolate. But afterward, he's changed. He apologizes to Vianne.
And to prove he's sincere, the mayor sits down to write an Easter sermon for the young priest to deliver. Instead of his usual mean-spirited rhetoric (chastising everyone for not living up the letter of the law as dictated by himself) the priest delivers his first sermon preaching love, humanity, kindness and tolerance. He finishes by praising those who heal through their innate sweetness. Now, is he talking about the sweet confection or the sweetness of the chocolatiere?
Mayan Hot Chocolate
1 chili pepper, cut in half, seeds removed
5 cups light cream, whole or nonfat milk
1 vanilla bean, split lengthwise
1 to 2 cinnamon sticks
8 ounces bittersweet chocolate OR
3 tablets Mexican chocolate, cut into ?-inch pieces
2 tablespoons sugar or honey or to taste
1 tablespoon almonds or hazelnuts, ground extra fine
Add chili pepper to 2 cups boiling water. Cook until liquid is reduced to 1 cup. Remove chili pepper; strain for stray seeds, and set aside. In a medium-size saucepan, combine cream or milk, vanilla bean and cinnamon stick. Heat over medium flame until bubbles appear around the edge. Reduce heat to low; add chocolate and sugar or honey; whisk occasionally until chocolate is melted and sugar dissolves.
Turn off heat; remove vanilla bean and cinnamon stick, stir in ground almonds or hazelnuts. Add chili pepper infusion, a little at a time, making sure the flavor isn't too strong. If chocolate is too thick, thin with a little more milk. Serves 6.