By Mike Gordon
Advertiser Staff Writer
After 35 years of service, the only U.S. submarine named after a Hawaiian king will steam for the scrap yard this year.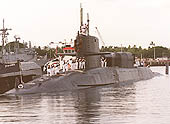 The USS Kamehameha arrived at Pearl Harbor in November 1999 after a six-month deployment.

Richard Ambo • The Honolulu Advertiser

The Pearl Harbor-based USS Kamehameha, commissioned as a ballistic missile sub in 1965 and converted in 1992 to carry Navy SEALs, will have one more brief deployment this spring before a decommissioning ceremony this fall in Bremerton, Wash.

Its age has never been an issue with the crew, said Cmdr. Derek Hesse, captain of the nuclear-powered boat. Just last year, the submarine went on a 31,000-mile cruise — much of it submerged — that took it as far as Jordan.

"We kind of think of her as a classic car," Hesse said. "She has just been marvelously taken care of over the years."

The loss of the Kamehameha will leave only one submarine with a Hawai'i identity: The USS Honolulu, a fast-attack submarine also homeported in Pearl Harbor. The Navy plans to name one of its new nuclear attack submarines the USS Hawai'i, but it is not scheduled for service until 2007.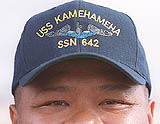 Chief Petty Officer Arnulfo Agpaoa, of 'Aiea, a manager in the sub's mess, or dining room, wears a cap that's soon to be a collector's item.

Richard Ambo • The Honolulu Advertiser

The Kamehameha was built as a Cold War vessel, patrolling 63 times before the Navy modified it so it could deploy special forces while submerged.

Despite a history of Navy success, the submarine will meet a somewhat ignoble end after it arrives at the Puget Sound Naval Shipyard.

"They use every bit of that submarine they can for parts, and when they get to what they can't use, they destroy what they have to and recycle the rest," said Lt. Cmdr. Dave Werner, a spokesman for the Pacific Fleet's submarine force. "It is fantastic steel."