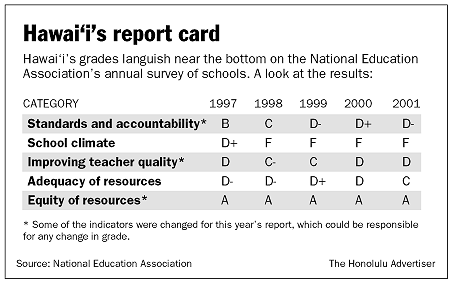 By Alice Keesing
Advertiser Education Writer
The system that aims to improve the performance of Hawai'i's public school students received a D-minus grade in a national report released today.
But state schools chief Paul LeMahieu said the report indicates Hawai'i's public schools are on the right path. He also used the dismal grades to renew his call for more money for education this legislative session.
Hawai'i's standards and accountability system received the seventh-lowest score of the 50 states in the fifth annual "Quality Counts" report by Education Week magazine. The report is used by educators to rate and compare U.S. schools.
"There is a sense in which the report is actually encouraging," LeMahieu said. "I'm not happy with the low grades for sure, but it's something we're going to see changing dramatically in the near future.
"The places that are getting high marks have been doing this for 12 years — we've got two years into it."
While the Department of Education has completed its content standards that outline what each public school student will learn in each grade, the remaining pieces of the system have yet to fall into place.
That includes performance standards, which contain the specific details for the content standards; a new Hawai'i-based test, to be administered this spring; and an accountability system, which will hold everyone in the system responsible for student progress.
The governor's executive budget for the next biennium included none of the $26 million the department requested to help get the standards system into place.
"If people want to see these grades go up, we have to invest in the system," said LeMahieu.
The report also faulted Hawai'i for its initiatives to improve teacher quality. Hawai'i received the seventh-lowest grade of the 50 states.
"We got marked right down because we don't have any professional development," said Danielle Lum, spokeswoman for the Hawai'i State Teachers Association.
Hawai'i's teachers don't receive enough in-service training and have to pay for their own courses, Lum said.
LeMahieu said professional development is another key part of his reform agenda.