By Curtis Lum
Advertiser Staff Writer
Kane Fernandez, who took over the family's carnival and circus business and built it into one of the most successful entertainment firms in Hawai'i, died yesterday of an apparent heart attack. He was 64.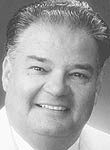 Kane Fernandez built upon the business established by his father, E.K. Fernandez.

Fernandez suffered the heart attack following a meeting yesterday at Star of the Sea School. He was taken to the Queen's Medical Center, where he died.

Fernandez was the son of E.K. Fernandez, who began entertaining Hawai'i residents before World War I. The elder Fernandez is credited with bringing the first merry-go-round and Ferris wheel to Hawai'i.

Kane Fernandez was the president and chief executive of Fernandez Entertainment Inc. and E.K. Fernandez Shows Inc. His death yesterday shocked friends and family members.

"We heard he was going to the hospital, and all of us were going to get in the office and say a prayer for him," said Porpilio "Pop" Tamala, who has been with E.K. Fernandez Shows for 53 years. "When we walked into the office, we got the news that he passed away."

Tamala began as a maintenance worker with E.K. Fernandez, and his first job was scooping elephant manure at the circus. He now works as a supervisor in the company's food department.

"He was a good man," Tamala said. "He had a big heart; he had a good heart. He was always helping people."

Island Movers president and chief executive Donald Takaki agreed, saying Fernandez was active in community events. The two had known each other for more than 20 years.

"He's done a lot of good things, business-wise, and also for the community. He really loved Hawai'i. He was a real good guy," Takaki said.

Takaki remembers Fernandez as a star athlete at Punahou School and at the University of Hawai'i. In 1957, Fernandez was captain of the UH track team.

The Fernandez family was active in the annual Punahou Carnival for more than 60 years. Punahou president Jim Scott said Kane Fernandez established an endowment fund in his father's name as a way of returning some of the profits from the carnival to the school.

"He'd always come and give me a bunch of ride tickets the first day of the carnival, and ask me to make sure that they got circulated to kids who maybe couldn't afford the rides," Scott said. "I called the home tonight, and his daughter said there's going to be two Punahou carnivals this year: one at Punahou and one in heaven, because he's going to be celebrating."

Fernandez was on the boards of the Boys and Girls Club, and the Hawaii Theatre Center. He also served as a director of the Bishop Museum, Variety School and the University of Hawai'i Foundation.

Fernandez graduated from the University of Hawai'i in 1958, and was accepted at the Navy's Officer Candidate School in Newport, R.I. He served 4 1/2 years in the Navy and returned to the Islands to work for his father in 1962.

E.K. Fernandez died of a heart attack at age 86 while attending a showmen's convention in Chicago in 1970. Kane Fernandez took over as president and general manager of E.K. Fernandez Shows that November.

Kane Fernandez is survived by his wife, Linda; children, Shelley Fernandez-Katz, Sydney Fasi and Scott Fernandez; two grandchildren; and a sister, Kulani.

Funeral arrangements were pending.