By Curtis Lum
Advertiser Staff Writer
Sales of the new first-class and 1-cent postage stamps have been brisk, but the U.S. Postal Service said customers shouldn't worry because there are ample supplies of both.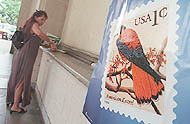 This poster of a one-cent stamp was on display outside the Richards Street post office in downtown Honolulu yesterday. Postal officials say they are in "great shape," with enough stamps for everyone who wants them.

Cory Lum • The Honolulu Advertiser

The cost to mail a first-class letter increased on Sunday, from 33 cents to 34 cents. Postal Service spokeswoman Felice Bro-glio said the local office was prepared for an onslaught of customers seeking 1-cent stamps needed to supplement leftover 33-cent stamps.

The Hawai'i office brought in 14.5 million 1-cent stamps, Broglio said. About 12 million were distributed to post offices and vending machines and there is a surplus of 2 million in the depository, she said.

The local Postal Service office also ordered 796,000 new first-class stamp books, each containing 20 stamps, and had a surplus of 138,000 books as of yesterday, Broglio said. In addition, 700,000 individual first-class stamps were brought in and 125,000 remain.

"We're in great shape," Broglio said. "Sales are going very well. Monday some of the offices had lines, but not nearly what we anticipated. So, probably people heard about (the increase) sooner this year."

That wasn't the case the last time postal rates were increased two years ago. A rush of people buying the 1-cent stamp created a shortage nationwide.

"I believe the last time it went up more people were unaware of it until the last minute," Broglio said. "And then because they weren't sure how many they needed and it was so cheap at a penny a piece that they tended to over-buy, and that left us a little short."

This time, the Postal Service made an effort to publicize the rate increase and began selling the new first-class stamps in mid-December, she said.