Advertiser Staff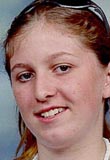 Tina Thill of Glenwood was last seen Nov. 9.
Search on for missing Puna girl
HILO, Hawai'i — Detectives yesterday asked for the public's help in finding a 15-year-old Puna girl missing from her home for two months.
Lt. Larry Weber said Tina Thill, of Glenwood, was last seen Nov. 9.
He described her as Caucasian, 5-foot-4, weighing 117 pounds, with long brown hair and blue eyes.
Weber urged anyone with information to call him at (808) 961-2373. Calls also will be taken at the police receiving number, (808) 961-2373, or at CrimeStoppers, 961-8300.



Pali lights back on; debate too
State crews had the streetlights along the Kailua-bound side of the Pali Highway up and running again Monday evening.
The lights, running from the Pali tunnels to the hairpin turn a mile down, had been out since August when a transformer blew.
Kelly Sato, a maintenance engineer with the state Department of Transportation, said crews on Monday tested a high-voltage electrical line supplying power to the lighting system.
"We found the line to be functioning," Sato said. "But we won't take out the temporary road lights until the end of the week to make sure the permanent lights are working properly."
The darkened streetlights revived a mini-debate on whether lights should be used on the Pali Highway. A small number of drivers wanted the lights kept off so they could enjoy the scenic drive.
State officials and others said the lights were needed for safety and liability reasons.



Traffic project ideas sought
The state Department of Transportation will initiate Waimanalo community meetings to discuss and develop ideas for transportation improvements in the area.
Scot Urada, DOT project manager, said the department is interested in developing projects for Kalaniana'ole Highway between Olomana Golf Links and Waimanalo Beach Park.
Preliminary projects include left turn lanes, drainage improvements, bus stop upgrades, bike lanes, sidewalks, paved driveways, replacement of existing traffic signals and compliance with the American With Disabilities Act.
The state has planned five public meetings to begin in June. Waimanalo Neighborhood Board members were concerned that Kalaniana'ole not become a high-speed road and that other safety issues be addressed.
For more information, contact Urada at 692-7553.



Burglars take safe via roof
Burglars stole a safe from Foodland supermarket in Pupukea early Monday morning after entering through a hatch on the roof.
Police said the burglary occurred between midnight and 5 a.m., when employees arrived to begin their shifts.
The thieves also damaged the alarm system, cut telephone lines into the building and damaged an automated teller machine.
Foodland spokeswoman Sheryl Toda said she could not disclose how much money was stolen.
The store opened Monday just before noon, about six hours after its usual opening time, she said.



Waves injure Japanese visitor
A visitor from Japan was flown by emergency helicopter to Queen's Medical Center yesterday afternoon after being injured while bodyboarding in the shorebreak at Waimea Bay.
The man's condition was not available yesterday afternoon.
Also, Queen's officials reported that a 29-year-old Pearl City man brought to the hospital Monday after suffering injuries while bodyboarding at Pipeline remained in guarded condition.



Honoring Hawai'i heroes
Twelve veterans who have been awarded the Medal of Honor will be inducted into the Gallery of Heroes section of the U.S. Army Museum of Hawai'i at Fort DeRussy during a 3 p.m. ceremony tomorrow.
Being honored for war-time heroism are Pfc. Barney F. Hajiro, Pvt. Mikio Hasemoto, Pvt. Shizuya Hayashi, 1st Lt. Daniel K. Inouye, 2nd Lt. Yeiki Kobashigawa, Staff Sgt. Robert T. Koroda, Pfc. Kaoru Moto, Pfc. Makato Nakae, Pvt. Shinyei Nakamine, Staff Sgt. Allan M. Ohata, Tech. Sgt. Yukio Okutsu and Capt. Rancis C. Wai.