Advertiser Staff
When Samuel Masuo Ichinose first stepped into the ring 70 years ago, it hardly seemed the harbinger of a Hall of Fame boxing career.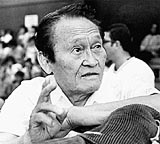 "Sad Sam" Ichinose spent more than 50 years as a boxing promoter and manager until he died in 1993.

Advertiser library photo • July 3, 1977

History has all but forgotten that the sinewy 22-year-old flyweight lost that Honolulu Stadium bout — his first and only fight — on a foul.

But the man who came to be known as "Sad Sam" carved an enduring mark on the sport here over more than a half century as a promoter and manager, and will be posthumously inducted into the International Boxing Hall of Fame and Museum on June 10 in Canastota, N.Y.

His enshrinement as part of a 16-man class will make Ichinose the second Hawai'i boxing figure among the hall's 236 honorees. Former world middleweight champion Carl "Bobo" Olson was inducted last year.

A career that predated the legalization of boxing here in 1929 saw Ichinose promote world championship fights and weekly smokers. In the process, he came to be known worldwide. It was said that you could walk into any major gym in the world and if you mentioned Hawai'i, somebody would draw an instant association with Ichinose, a man whose cable address was simply: "Sad Sam, Hawai'i."

"Sad Sam basically was boxing in Hawai'i for a number of years," said Mike Machado, executive officer of the Hawai'i State Boxing Commission. "Without Sad Sam, boxing wouldn't have come to the fore in Hawai'i."

"He achieved a great deal as a promoter and manager and was Mr. Boxing in Hawai'i for over 50 years," said Edward Brophy, executive director of the Hall of Fame.

Ichinose's start came simply. "I was unemployed and used to hang around the gym (on Kukui Street) to work out," he once said. "I started to help out fighters and learn the ropes."

After his brief "career" as a fighter, Ichinose said he turned to managing. One of his first fighters, Ichinose said, was a stowaway on the SS Mariposa's maiden voyage whom he managed to a series of lightweight titles.

For more than 50 years after that until his death in 1993, nearly every boxing champion Hawai'i produced was either trained, managed or promoted by Ichinose.