Market Comparison
By Joan Namkoong
Advertiser Food Critic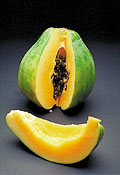 Hawai'i-grown papayas are available all year, a rich source of vitamins A and C and one of the sweetest fruits around.
Papaya is a native of Central America, and Spanish and Portuguese explorers helped spread it throughout the world. We often say that papayas grow on trees, but actually the papaya plant is a herbaceous perennial whose trunk is not very woody and whose leaves grow only at the top of the plant. Papaya plants grow fast and bear fruit in 12 to 18 months. A single plant can produce 30 to 150 fruits per year.
Papayas are picked about a quarter ripe and ripen fully in four to five days. The pear-shaped Kapoho Solo variety, the red-fleshed Sunrise and the new disease-resistant Rainbow are plentiful right now in our markets and at good prices. A cup of papaya has about 55 calories, high levels of vitamins C and A, potassium and fiber.
Rambutan in season
Extra-fancy premium rambutans are available this week at Times Beretania, Kahala and Kailua, according to distributor Jonathan Yee. The season is short and the quality is good now.
Help for schools
Tyson Project A+ is a program that helps schools raise money for many needs. Consumers can save the redemption panels on Tyson Food products, which the schools redeem. Each panel is worth 24 cents; a school can earn up to $12,000 in a calendar year.
Tyson Food's chicken products can be found in the frozen-food sections of supermarkets. For more information on registering your school or donating redemption panels, check the Tyson Foods Web site: tyson.com, or call 944-4361.
---
Send shopping queries and new product information to: Market Basket, The Honolulu Advertiser, P.O. Box 3110, Honolulu, HI 96802. Fax: 525-8055. E-mail: islandlife@honoluluadvertiser.com. Or call: 525-8069.