Slaying suspect has 45 convictions
Son describes parents' special trip

Advertiser Staff

The death of an 81-year-old Canadian tourist who was attacked in a Waikiki hotel earlier this week drew concern yesterday from Honolulu's visitor industry, but several tourism officials said that because of its rarity, the incident is unlikely to significantly affect the state's No. 1 industry.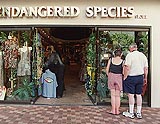 Tourists do some window shopping at the Royal Hawaiian Shopping Center yesterday.

Eugene Tanner • The Honolulu Advertiser

"Part of the shock is that this is so rare an occurrence," said Murray Towill, president of the Hawai'i Hotel Association. "It's a terrible thing to have happened, but it's a relatively isolated event."

Norman Chaplan died Thursday after an assailant beat and robbed him in the 'Ohana Waikiki West hotel shortly after 1 a.m. Tuesday. The last time a tourist was murdered was in 1996, when a visiting Pennsylvania professor was suffocated in a Waikiki apartment.

Officials said visitors' perceptions of Hawai'i as a safe place to vacation will likely be unaffected because such events do not reflect a larger pattern of crime or problems.

Tourism Authority chief executive officer Bob Fishman said the hotel had proper safety precautions like security cameras and locked lavatories in place. "You had somebody who was a consummate criminal convicted on many felonies," Fishman said.

Still, officials note that Honolulu is like any big city and vacationers need to exercise some degree of caution.

Koki Nishitani said yesterday that the 20-member volunteer Tourism Citizen Patrol he runs in Waikiki tries to get the word out to Japanese tourists to be on guard against crime.

"It's impossible to respond to each and every incident, but we periodically issue warnings against crime," said Nishitani. Bag snatchings, once frequent among Japanese women tourists in Waikiki, have become rarer since his squad began pounding the pavement, Nishitani said.

Some Honolulu retailers whose businesses rely heavily on tourists expressed outrage and dismay at the tragedy and its possible impact yesterday.

"It's a sad state of affairs that this happened in Honolulu; it doesn't sit well for any retailer, hotel or service here," said Hermes boutique manager Kathy Sakamoto. "(Crime) is prevalent everywhere but this will be publicized in Canada and that's sad for the economy of Hawai'i."

Rika Ikeda, president of the Visitors Aloha Society of Hawai'i, was among those who offered compassion and help to Chaplan's family. "There wasn't a lot we could do but I sent Mrs. Chaplan some flowers and when their son came in I brought sandwiches and snacks to the hospital," Ikeda said.

Visitors bureaus in other cities cope with crises in much the same way, but cases like the Chaplan murder are relatively rare.

Michael Collins, of the Los Angeles Convention & Visitors Bureau, said that in the 10 years he has been on the job he has never handled such a case.

Collins said that when other crises arise, his office helps the victim and family members by arranging for complimentary hotel stays, air tickets and other amenities.

"You hunt for ways to provide solace or sustenance in some way; people remember that," Collins said. "The policy is going to be governed by the moment to help alleviate pain and suffering."