Son describes parents' special trip
Officials see killing of tourist as isolated event
Audio of statement by son Jonathan Chaplan (Real Player plug-in required)

By Brandon Masuoka
and David Waite
Advertiser Staff Writers

The man suspected in the fatal beating of an 81-year-old Canadian tourist this week has a lengthy criminal history that includes drug use, according to state officials and his court files.

Steven Michael Hauge's prior record includes 45 convictions — mostly misdemeanors and petty misdemeanors, such as driving without a license — that extended into last year.

Hauge, 43, has not been charged in the murder and robbery of tourist Norman Chaplan early Tuesday inside a Waikiki hotel lobby restroom. Hauge was arraigned yesterday and is being held on $100,000 bail on charges of robbing, kidnapping and terrorizing a 25-year-old Waikiki man on Monday.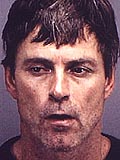 Steven Michael Hauge has not been charged in the murder of Norman Chaplan but is charged with terrorizing a 25-year-old Waikiki man.

District Judge Tenney Tongg scheduled a hearing Tuesday to determine whether Hauge should be ordered to stand trial on the charges. Hauge, in leg shackles, did not say anything during the brief hearing.

Hauge was arrested in the Chaplan case, but released pending further investigation. However, he remains in custody in connection with the robbery case.

"He is still being investigated as a suspect in the murder of Mr. Chaplan," Honolulu Police Department spokeswoman Jean Motoyama said. "We don't have any other suspects at this time. But we're not ruling anything out. There's still lab work and other work being done in the case, so the investigation is continuing."

Anyone with any information about Hauge, particularly where he lived, should call detectives Mike Tsuda or Anderson Hee at the Criminal Investigation Division at 529-3115, Motoyama said.

Public Defender Jack Tonaki, whose office is handling Hauge's case, yesterday declined comment.

According to the Hawai'i Criminal Justice Data Center, Hauge's convictions date from 1977 to last year, when he was convicted in petty misdemeanor and misdemeanor theft cases.

The record includes nine felonies including terroristic threatening, assault, forgery-counterfeiting and credit card offenses. The other convictions include shoplifting, misdemeanor theft, criminal property damage, resisting arrest, harassment, disorderly conduct and jaywalking.

Hauge was acquitted of cocaine charges last June.

In that case, vice officers raided a Kuhio Avenue apartment occupied by Hauge and his wife, Ann Elizabeth Taylor-Hauge, and reported finding cocaine and pipes to smoke the cocaine, court records show.

Taylor-Hauge, 62, pleaded guilty to the charges against her, but Hauge went to trial and was acquitted June 29.

Two weeks later, Hauge was in trouble with the law again, arrested by police on a misdemeanor theft charge. He was found guilty on Aug. 23, and sentenced to 24 hours' confinement.

He also was given a 12-hour sentence for a petty misdemeanor theft conviction, according to court records.

Hawai'i Paroling Authority administrator Max Otani yesterday said Hauge's last prison sentence, a five-year term, ended in October 1999 after his parole was revoked.

"This guy was on parole three times," Otani said. "Most of his parole violations seemed to center on drug use. In Hauge's case there was a consistent pattern with substance abuse when we look at his history of violations."

While Hauge has been described as "homeless," court records show that at the time he was arrested on various charges, he listed Waikiki home addresses on Paoakalani Street and Kuhio Avenue, just blocks from where Chaplan was fatally injured.

The city medical examiner yesterday said Chaplan died of "injuries to the head and brain due to blunt trauma."

Gov. Ben Cayetano yesterday expressed his condolences to Chaplan's family.

"I am extremely saddened that someone who came to enjoy our beautiful islands would come to such a grievous harm," Cayetano said. "It is a great shock to have a visitor so brutally attacked here."

The last murder of a tourist in Waikiki was in July 17, 1996. The body of visiting University of Pittsburgh professor Robert Henderson, who was suffocated, was found in an apartment. The case has not been solved.