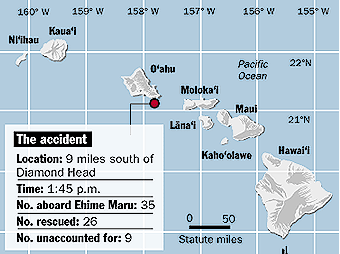 Damaged ship sank within 10 minutes

Japanese school anxiously awaits news of students on boat

Accident while surfacing a real fear

Investigation into collision promised

Graphic of how the collision happened

See video of the Coast Guard rescue effort in large (6.8 Mb), small (1.1 Mb) or streaming format. Video courtesy KHON-TV.

By Mike Gordon
and Jennifer Hiller
Advertiser Staff Writers
A Pearl Harbor-based nuclear submarine surfacing off O'ahu yesterday sliced through the hull of a Japanese high school training ship with 35 people aboard, sinking the vessel within minutes.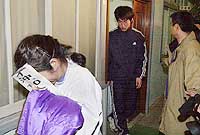 Relatives of the missing grieved in Japan. Some were preparing to travel to Honolulu.

Yomiuri Shimbun

Nine people from the training ship were missing and presumed dead last night.

The collision, one of the worst peacetime U.S. submarine accidents in recent history, elicited an immediate statement of regret from the U.S. Navy and promises of a full investigation.

Rescue teams from the Navy and the Coast Guard said they would search through the night and today for the nine people missing after the 1:45 p.m. collision between the 360-foot USS Greeneville and the Ehime Maru, a 174-foot fishing vessel. They were searching a 300-square-mile area into the night.

"As long as there's a chance survivors are out there, we will continue to search," Coast Guard commander Dee Norton said. "The ships will remain out all night."

Norton said the three-deck training ship sank in 1,866 feet of water about nine miles south of Diamond Head. Crew members said they heard a thud and felt a shudder pass through the ship, which immediately lost power and began to sink. They said it took less than 10 minutes for the ship to go down, giving them barely enough time to put on their life vests and scramble aboard three life rafts.

Skies were overcast and seas were choppy with swells of 6 to 8 feet at the time of the collision. Submarine experts say rain and swells can sometimes obscure surface ships from sonar.

The USS Greeneville is a Los Angeles-class fast attack submarine commissioned in 1996. The Greeneville was on routine maneuvers and was surfacing when its stern "may have made contact" with the Ehime Maru, said Navy Lt. Cmdr. Dave Werner, spokesman for the U.S. Pacific Fleet's submarine force.

"I don't know what they were doing and the circumstances surrounding what they were doing," Werner said. "Right now the focus is on recovery efforts."

The Greeneville, which remained at the scene of the collision throughout the day, was not damaged.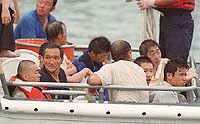 Victims from the collision witha Navy submarine are brought to the U.S. Coast Guard reservation on Sand Island.

Cory Lum • The Honolulu Advertiser

The Coast Guard began rescuing the 26 people about 3 p.m. Eight of them were taken to Kaiser Moanalua Medical Center and four to Straub Hospital. The rest were taken to the Coast Guard's gym at Sand Island, where they took showers and were given food and a change of clothes. They spent the night at the Ala Moana Hotel.

Hisao Onishi, 58, the captain of the ship, said last night he was not hurt but that he was still in shock and couldn't talk about what happened.

"I'm thinking of people who are still missing and dead," he said through an interpreter.

Two of the victims suffered from hypothermia, one had a possible broken collarbone and neck injury, and the rest were suffering from irritation to the nose, eyes, ears and throat from diesel fuel spilled in the water, said Bobby Pedro, district chief of Emergency Medical Services.

The four at Straub ranged in age from 17 to 51.

The missing include two engineers, two teachers, four cadets and one crew member.

All of them were aboard the Ehime Maru, a longline training vessel owned by the Ehime prefecture in Japan and operated for high school students learning to become commercial fishermen. The ship left Japan on Jan. 10 and had been in Hawai'i since Tuesday with 13 students from Uwajima Fisheries High School.

Commanders at the Pacific Fleet Headquarters launched an investigation into the collision, but many questions about the accident remained as the search continued.

It is not known why the submarine surfaced under the vessel, said Navy Cmdr. Bruce Cole at Pearl Harbor, promising a full investigation.

"It would not have surfaced if it had seen the boat," Cole said.

Senior Navy leaders in Washington and Hawai'i were all aware of the incident, said Lt. Cmdr. Conrad Chun, fleet spokesman. In Washington, White House spokesman Ari Fleischer said President Bush was told about the incident.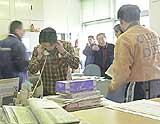 Officials at Uwajima Fisheries High School were busy on the phone yesterday seeking information about the tragedy.

Yomiuri Shimbun

Adm. Dennis Blair, U.S. commander in chief of Pacific forces, and Rear Adm. Albert Konetzni, commander of the Pacific Fleet submarine force, were out of town, but had been notified, Chun said.

Chun did not know what kind of experts would be called upon to participate or if they would come from the Mainland.

"We're currently assessing how this investigation will be completed and what agencies will be involved," Chun said. "It involved a military vessel, a civilian vessel and another country. It is complicated."

It was not clear last night if the Coast Guard or the National Transportation Safety Board would join the investigation, Chun said.

Adm. Thomas Fargo, commander in chief of the U.S. Pacific Fleet, was in contact with the Japanese consul general in Honolulu twice yesterday, Cole said.

"It's important to say the Navy regrets this unfortunate incident," Cole said. "We're very concerned for the families of the people who are missing."

According to the Ehime Shimbun newspaper, the students who survived were Yosuke Iketani, 16, Atsushi Kamado, 15, Toshiya Sakashima, Yuta Sakamoto, Daisuke Shinotou, Syoji Tsuji, Yusuke Terata, Katsuya Nomoto, Hiroyuki Hosokawa, 17, Manabu Matsushita, Takeshi Mizuguchi, Kiyoto Miyoshi and Cyoichiro Yokoyama, 17. Teachers Hiroshi Makizawa and Jyun Tanaka also survived.

Crew members who survived were Captain Hisao Onishi, 58, Toshimichi Furuya, Hirotaka Segawa, Ryoichi Miya, Syuji Yanagihara, Hiroshi Nishida, Sakichi Atsuta, 50, Takashi Nakamura, Hideaki Hamamoto, 50, Masaru Yamashita, Hideo Okayama, Syukuo Nakamura, 49, Tadanori Sato, Tetsuo Hama, Hidekatsu Kimura, Fumio Kogusuri, Yoshifusa Yamamoto, Makoto Hotta, Masao Murai, 51, Akira Kagajyo.

The missing are crew member Toshimichi Furuya, staff members Hirotaka Segawa and Hiroshi Nishida, students Toshiya Sakashima, Yusuke Terada, Katsuya Nomoto, Takeshi Mizuguchi and instructors Hiroshi Makizawa and Jyun Nakata.

The search involved three Coast Guard H-65 search-and-rescue helicopters as well as two smaller vessels. The Navy also sent a cruiser, a salvage ship, two torpedo retrievers, a P-3 Orion airplane and a SH-60 Seahawk helicopter to help.

The crash is the second major mishap involving a Navy vessel near Hawai'i in seven months. In July, the USS Denver, a 570-foot amphibious transport dock ship, was preparing to receive fuel from the USNS Yukon, a Military Sealift Command oiler, about 180 miles west of O'ahu when the two vessels collided.

No one was injured, but the 677-foot Yukon sustained heavy damage to its right side and the Denver had a 25-foot-deep gash in its bow.

Advertiser staff writers Curtis Lum, Alice Keesing, Glenn Scott, William Cole, Brandon Masuoka and David Waite, the Associated Press and Ehime Shimbun contributed to this report.

CORRECTION: The Ehime Maru sank in water about 1,866 feet deep. An earlier version of this story gave another figure.