9 missing after sub hits Japanese ship
Damaged ship sank within 10 minutes

Accident while surfacing a real fear

Investigation into collision promised

Graphic of how the collision happened
See video of the Coast Guard rescue effort in large (6.8 Mb), small (1.1 Mb) or streaming format. Video courtesy KHON-TV.

By Tanya Bricking
Advertiser Staff Writer

Phones lit up as the weekend began at a school board office in Japan with callers frantic to find out who was among the missing.
At Uwajima Fisheries High School in the southwestern Japanese prefecture of Ehime, all they could do was wait.


Four 17-year-old students, two teachers and three crew members were counted among the missing from the Ehime Maru longline training vessel that sank yesterday off the coast of O'ahu.


At the school of 200 students, Principal Ietaka Horita went down the phone list of parents of those on the ship and called to tell them what he knew: that it had been struck by a U.S. Navy submarine. He also told them what he didn't know: whether their children were alive or dead.


Then he made plans to fly to Hawai'i to find out for himself.


Thirteen of his students — half of the school's second-year ocean engineering class of 16- and 17-year-olds — had been on board the 174-foot Ehime Maru.


They left Japan on Jan. 10 from the Misaki port in Kanagawa prefecture to do research on fishing tuna, swordfish and shark. They had practiced fishing techniques and throwing nets in the waters south of the Hawaiian Islands. By Tuesday they made it to port at Pier 9 in Honolulu Harbor, next to Aloha Tower, where they stopped for four days of sightseeing and shopping.


Yesterday was to be the day they headed home. They were ahead of their original schedule. A problem with an air conditioner on the ship had sped up their plans.


This wasn't the way it was supposed to turn out.


Children in a Japanese orphanage had sent good luck letters to one student on the ship, a boy named Daisuke Shinoto who had been raised in the orphanage from the time he was in the first grade.


By 11 a.m. Japan time yesterday, the phone rang at the orphanage. It was the school, explaining that there had been an accident.


Chizuru Taniguchi, 44, the orphanage director, rushed to the school and waited for news.


"I cannot believe they had an accident," Taniguchi said in today's editions of Yomiuri, the largest-circulation daily newspaper in Japan.


Response to crisis


Shock rippled through the town of Uwajima as Japanese television stations broke into programming with live news updating the situation. Town officials scrambled to coordinate a response to the accident, and the Ehime government set up a crisis center to assist families and cull information on the accident.


"It's a bit chaotic right now," Uwajima municipal official Masanori Mori said. "There's a great deal of shock. When I think of the families, it must be so difficult just to wait with no information."


Japan's Cabinet set up a crisis center to deal with the accident. Calls there went unanswered.


The Foreign Ministry said it was in contact with its consulate in Honolulu and seeking details of the accident, including the identity of the missing.


Patrick Linehan, a spokesman for U.S. Embassy in Tokyo, said Japan's Foreign Ministry was in close contact with the embassy about coordinating relief efforts.


He said the United States was making "every effort" in search-and-rescue operations.


Prime Minister Yoshiro Mori instructed his ministries to do their best to save the lives of the nine missing Japanese, the Kyodo News Agency reported. The government also set up a task force to organize relief efforts.


At Uwajima Fisheries High School, parents and staff gathered around televisions and held cell phones waiting for calls.


Kyoko Sasaki, 44, an employee at a convenience store near the high school, said residents of the town of about 66,000 people, 420 miles southwest of Tokyo, were finding it difficult to stay calm.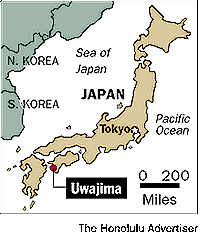 "Students from the school couldn't stop talking about the accident," she said. "We're all so worried."

Hoping for good news

Sasaki said when she heard of the accident, she immediately called a friend whose son attends the high school, and was relieved to find that he was not on the school's training mission in Hawai'i.

Chiyoko Yokoyama, grandmother of 17-year-old Choichiro Yokoyama, who came from generations of fishermen and was studying to become one, wished for good news as well.

"I hope he is safe," she told the Yomiuri newspaper. "But I haven't heard anything from him, and I am worried. He was smiling and very happy when we said goodbye to him, and I just hope he is OK."

The Associated Press, Advertiser contributor Miki Lendon and the Yomiuri Shimbun contributed to this report.