Graphic of the global cellular phone market

Associated Press

TOKYO — Rika Ogawa works in a body-piercing store, dyes her hair amber brown and knows quite a lot about her friends' dates. To prove she's really up on the latest, she owns a "Web" phone to view pop idols, swap e-mail and download electronic tunes — on a screen the size of two postage stamps.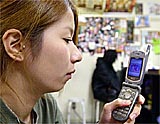 Rika Ogawa, a 22-year-old clerk at a body-piercing jewelry store in Tokyo's Harajuku district, uses only her thumb to operate her new Internet linking mobile phone. She uses her phone to look at her favorite pop idol's photos, send e-mail and programs it so electronic version of rock tunes go off when a call comes in.

Associated Press

About 25 million Japanese — a fifth of the nation's population — use Net phones to chat, play games, read news, check stocks and search for restaurants, all on a 1-inch-by-1-inch screen.

Could Japan's craze over Internet-linked phones carry over to the United States, where most Web surfers use personal computers?

Japanese providers of Net services are about to find out.

Led by NTT DoCoMo, the industry is pushing overseas — Japan's first pass at scoring globally with an exported service, rather than a manufactured product like cars and electronics.

The leader in Japan's wireless Web is the "i-mode" service sold by NTT DoCoMo, the mobile phone unit of Tokyo telecommunications giant Nippon Telegraph and Telephone.

NTT DoCoMo is buying a 16 percent stake in AT&T Corp.'s mobile phone unit for $9.8 billion, with hopes of expanding its i-mode business and mobile services to the United States.

NTT DoCoMo also has bought a $100 million stake in the Japan unit of America Online Inc., the largest U.S. Internet service provider, to develop AOL services linking PCs and mobile phones for the international market. But it hasn't yet given details on pricing, timing or types of service.

Net phones portal to Internet

Net phones have proven key to getting Japan wired, since only a third of Japanese homes have computers, while half the population has cell phones.

The situation is roughly reversed in the United States, where lifestyle differences could present obstacles to exporters of the Japanese service. More than half of U.S. homes have PCs, lessening the need for people to find another way to get online.

Americans also spend far less time in crowded lines and crowded trains. And skeptics say Americans are less likely to get sucked into fads than conformist-minded Japanese, who are notorious worldwide for meticulously keeping up with trends.

Will Americans pay to download an electronic version of, say, "Purple Haze" so it rings out when a call comes in — or to grab cutesy images for "wallpaper" on their cell phone screens?

Hironori Tanaka, an analyst with Morgan Stanley Dean Witter in Tokyo, believes i-mode can succeed in the United States as long as information and services are adapted to American tastes.

"I-mode succeeded in Japan because it gave what people wanted," Tanaka said. "As long as it comes up with a business strategy to provide content that answers Americans' needs, it has a good chance."

I-mode has a chance to one-up the competition with the advent of a speedier technology called "3G," for "third-generation," which lets people watch video clips on their cell phones.

In May this year, NTT DoCoMo — which already controls 60 percent of Japan's wireless market — expects to be the first in the world to offer 3G, although the service will be initially limited to the Tokyo area.

I-mode has drawn nearly 17 million users in Japan since February 1999, with subscriptions going strong and profits at NTT DoCoMo soaring.

While some i-mode Web sites are free, others cost from 90 cents to $2.60 a month.

The fees are collected through the regular mobile-phone bill by NTT DoCoMo, which takes 9 percent of that charge plus the $2.70 a month basic i-mode service fee. NTT DoCoMo also charges for voice and data volume.

For everything, users pay an average of $88 monthly.

Handy size is main advantage

There is the drawback of squinting at a tiny screen, but pictures are in vivid color. And the phone's handy candy-bar size is i-mode's greatest asset, offering a feeling of immediacy, even though the information you get is far less than what's on PCs — headlines, for example, instead of entire news articles.

Thousands of i-mode Web sites have sprung up. Some are "official," listed on a preset menu in the phones and reached by a push of a button; most are "unofficial" but can be accessed by punching in the site address. Users can bookmark sites or add them to their personalized i-mode menu.

The biggest money making sites in Japan are for downloading tinny electronic melodies and cartoonish images.

Bandai Networks, a four-month-old spin-off of toymaker Bandai Co., is one of thousands of sites that have sprung up. Bandai Networks has attracted 3.2 million subscriptions in Japan to Web pages where they can download cartoonish images such as Godzilla and Hello Kitty.

"I think Americans will accept something this convenient," said Bandai Networks President Toshiki Hayashi, smiling in his Tokyo office as he showed off cell phones lit up with mascots and photos of baseball stars.

Hayashi said his company hopes to offer similar services in the United States, although it has no specific plans yet.

Japanese carriers and manufacturers, meanwhile, have plans to transform cell phones into electronic wallets — letting users pay for purchases by flashing the phone across a device — or into miniature navigation machines with moving maps that pop up to help people find their way.

NTT DoCoMo is also eyeing the surging Asian market, particularly China.

It has taken a 20 percent share in Taiwan's KG Telecom and agreed to take minority stakes in two European companies, KPN Mobile N.V. of the Netherlands and Hutchison 3G UK Holdings. It also owns a stake in Hong Kong's largest cellular phone company, Hutchison Telecom.

"Personally, I'm a big believer in i-mode's world growth," said Adam Lavine, chief executive of FunMail, a California company that wants to sell its technology and service — letting people send animation with e-mail — on i-mode.

"As far as handhelds, Japan is a couple of years ahead of the rest of the world."