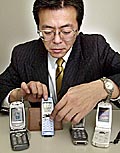 Toshiki Hayashi, president of Bandai Networks, shows some of the images delivered to cell phones from his company's Web site.

Associated Press
Big-screen ads now showing
The infiltration of TV-commercial-style ads — for everything from American Express to Volkswagen — is rapidly spreading on movie theater screens around the nation.

Japan firm hopes Net phone craze transfers to U.S.
About 25 million Japanese — a fifth of the nation's population — use Net phones to chat, play games, read news, check stocks and search for restaurants, all on a 1-inch-by-1-inch screen.