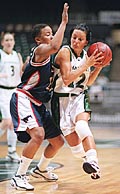 Wahine point guard Janka Gabrielova finds her way to the basket impeded by Southern Methodist's Anika Calvert.

Eugene Tanner • The Honolulu Advertiser
Wahine rebound to defeat SMU
The University of Hawai'i Wahine had an emphatic answer for every problem posed by Southern Methodist in whipping the defending Western Athletic Conference basketball champion, 74-56, last night before 694 at Stan Sheriff Center.

New Year's Grand Sumo Tournament
Yokozuna Musashimaru, Takanohana win second bouts
Yokozuna Musashimaru (Wai'anae's Fiamalu Penitani) sent Kaiho down with a two-handed shove to the chest. Musashimaru's 900th career bout lasted about four seconds. Yokozuna Takanohana won his second bout as well.