Associated Press

NEW YORK — Wolfgang Puck's celebrity is fed by his famous restaurants, including the original Spago in Hollywood, his pizzas, pastas and soups on sale in supermarkets, and his regular appearances on ABC's "Good Morning America."

'Wolfgang Puck'

7 p.m., Friday

Food Network

With all that, it's a wonder it's taken him so long to jump on the cooking show bandwagon that has made stars out of Emeril Lagasse and Bobby Flay.

"Up until now I've always been busy," Puck explained over tea at a Manhattan hotel.

Like he's not busy now.

This interview was squeezed between a morning television appearance in New York, for which Puck had a 5 a.m. wake-up call, and a flight back to Los Angeles and his "day job" at Spago. In the weeks leading up to the Academy Awards, Puck will have meetings and tastings in preparation for the Governor's Ball, the official Oscar after-party. (Last year, DreamWorks SKG's Oscar party at Spago was the hottest invite in town.)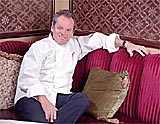 Los Angeles celebrity chef Wolfgang Puck is joining the Food Network league of cooking shows.

Associated Press

"Wolfgang Puck," which begins airing Jan. 12 on the Food Network, will follow the chef around his restaurants, to catering jobs, on shopping trips, and then close with the preparation of a dish for a studio audience.

But while Puck's new show will take viewers into A-list celebrity events like the Oscar parties, he won't have stars join him at the stove in his studio — at least not yet.

"The public should get used to me first — and my accent," said Puck, who still sounds Austrian despite having lived in California for nearly three decades. (Puck moved to the United States in 1973, landing in Los Angeles after a stint in Indianapolis.)

The chef, however, wouldn't rule out future appearances with friends such as Arnold Schwarzenegger, who shares Puck's love of wienerschnitzel and an Austrian accent, and Joel Grey and Suzanne Somers, who are quite competent in the kitchen.

"Wolfgang loves to talk to people," said Robb Weller, the former "Entertainment Tonight" correspondent who now produces service and information programs, including Puck's. "He's all about relationships."

Puck said the first few episodes of his show will let viewers see firsthand that he makes mistakes. "The first shows were difficult . . . But we're getting better, and it makes me excited we're getting better. The first time you do anything shouldn't be the best."

Despite his famous hobnobbing with the stars, Puck creates a homey environment for the studio audience and viewers at home, said Eileen Opatut, the Food Network's senior vice president of programming.

With his empire expanding to 10 restaurants and 16 cafes throughout the country, plus a planned location in Japan, the 51-year-old Puck still lives in Los Angeles with his wife and business partner, Barbara Lazaroff, and their two children, Cameron, 11, and Byron, 6.