By Michele Kayal
Advertiser Staff Writer

Aloha Airlines cut flights and employees this week to cope with a sagging interisland market, laying off roughly a dozen people and furloughing others.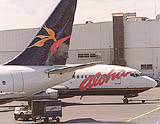 Aloha reduced the number of its daily interisland lfights from 180 to 165.

Advertiser library photo

Fifty-nine positions were eliminated from the company's 2,800-person payroll Monday, said Aloha spokeswoman Julie King. More than half of the phased-out jobs were accounted for through retirements and leaving empty positions unfilled, King said. Fifteen people were laid off.

Other employees, except those laid off, can move within the company, King said, though a number were furloughed while they await those jobs. King could not say how many people were furloughed or how long the furlough will last. A furlough offers temporary off-the-payroll status, with the chance to be called back later.

Also Monday, Aloha reduced the number of its daily interisland flights from 180 to 165, or about 8 percent. The interisland market has continued to present a challenge for Hawaii's local carriers as major airlines add more flights from the Mainland directly to the Neighbor Islands.

"We've noticed for some time that the interisland market has been very soft, probably due to more direct flights to the Neighbor Islands and maybe even the softening of the economy on the Mainland," King said. "Combined with the fact that it is the end of the peak holiday season, we did a new schedule."

King said she could not say how much Aloha's interisland market had shrunk, but state figures show that single-island vacations — which would cut into Aloha's business — were up 6 percent for the first 11 months of 2000.

Aloha has roughly 55 percent of the interisland market. Hawaiian Airlines has about 45 percent.

King said she could not say which routes specifically were affected, but said the cuts in flights and jobs were distributed across the Islands. Most of the cuts involved mechanics, baggage handlers, customer service agents and clerical positions. King said union and non-union positions were affected, but that no pilots or flight attendants were included.

King said she did not know of any other planned cutbacks.

The cuts come amid one of Aloha's greatest periods of expansion. The company launched its first Mainland flight last year, to Oakland, Calif., and will extend that service to Las Vegas next month. In April, King said, the company plans to announce new service to Southern California. In the last quarter of 2000, the company hired 20 pilots and 30 flight attendants to staff the Mainland expansion.

The Mainland flights have offered a way to make up for an ever-weakening interisland business.