By Eloise Aguiar
Advertiser Windward Bureau

WAIMANALO — Police say they will seek a first-degree negligent homicide indictment against a man who tested over the legal blood alcohol limit after a Jan. 2 head-on crash that killed a Waimanalo woman.

Police would not disclose the man's blood alcohol content, but said yesterday that it exceeded the .08 limit set by law.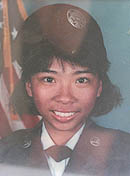 A wake for Lorrie Wiley will be held Jan. 19 at St. George's Catholic Church.

Advertiser library photo

The family of Lorrie Wiley was upset at the news. Her husband, David, said he has initiated legal action against the 19-year-old driver. Her brother said knowing the man was legally drunk makes his sister's death even more tragic.

"Where did he go drinking?" asked Richard Rudy Macanas. "He was a minor. Who would serve him? I'm more angry now."

Accident investigator Sgt. William Watkins said police are gathering evidence for a grand jury indictment. The process may take one to two months, he said.

The 19-year-old man was legally drunk when he climbed into his Chrysler and headed toward Waimanalo at 5:25 a.m., police will allege. The man's car crossed the center line where Kalaniana'ole Highway narrows in front of Olomana Golf Links and struck Wiley's Honda head-on.

He was taken to Castle Medical Center in critical condition but was released over the weekend.

Wiley died at the scene.

In addition to her husband and brother, she is survived by her mother and 5-year-old daughter.

A wake for Wiley is set from 6 to 10 p.m. Jan. 19 at St. George's Catholic Church in Waimanalo, 41-1323 Kalaniana'ole Highway. A service will begin at 9 p.m.

There will be a service at St. George's the following day from 9 to 11 a.m. Interment will be at 1 p.m. at The Valley of the Temples Memorial Park in Kahalu'u.

Macanas said at the very least, someone should have taken the car keys away from the other driver until he was sober.

"Or even have him drink coffee until he's all right," he said. "I just can't believe it."