By Ferd Lewis
Advertiser Staff Writer

Nearly 14 years in sumo taught Chad Rowan most of the 70 officially recognized techniques with which to win a match.

But in his first week of retirement, tying a necktie is proving a new challenge.

In stepping down from the sumo ring and the only full-time job he has held in his 31 years, life has changed for the sport's first foreign yokozuna. And mastering a knot was one of the first situations to drive home that point for the Waimanalo native.

With the announcement of his retirement Sunday, Akebono is exchanging the flowing robes he usually wore for suits and ties. Polished sandals for wingtips. A retinue of servants for do-it-yourself grooming. A chauffeur for getting behind the wheel himself.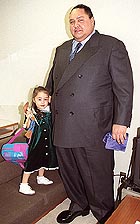 Akebono and 2 1/2-year-old daughter Caitlyn appeared on a TV news program in Tokyo yesterday.

Hochi Shimbun

"Seeing him in a suit and tie was a new experience," said Christine, his wife. "I don't think he's ever had to tie a tie before."

When he struggled, Christine said she asked him, "'Didn't you wear one to the prom?' And, he said, 'yeah, but it was a bow tie.' "

Officially he is now Akebono oyakata, a title that reflects his standing as an elder in the centuries-old sport.

What he will do next is up in the air, Akebono said. After all, "this is the first time I've retired, so it is all new to me."

While he decides and awaits the cutting of his top knot in a traditional ceremony in September, he has a place in the 110-member ruling Japan Sumo Association, and will serve as a coach in the Azumazeki stable of Jesse Kuhaulua, where he spent his career as a sumotori.

Because he attained yokozuna, the sport's highest rank, Akebono is allowed to remain in the Association, vote on its business and draw a salary of nearly $100,000 per year for up to five years without having to purchase stock in the association.

Non-yokozuna retirees and those who competed in less than 22 tournaments in the makuuchi division must purchase the stock — which can go for more than $1 million — to enter the association after retirement.

A source in the association said Akebono has not purchased stock and apparently has no plans to. With the purchase of stock, an oyakata can remain in the association until the mandatory retirement age of 65.

New oyakata are traditionally assigned to the security detail at tournaments before moving on to judging and other functions. Kuhaulua and Konishiki both later worked in public relations because of their personalities and language skills.

What Akebono might do after leaving sumo has been the cause of considerable speculation in Japan. One paper reported he might run for governor in Hawai'i. Another, Sankei Sports, suggested Akebono might join the WWF, taking as his ring name, "the real yokozuna?"

But friends and family in Japan say he has no plans to enter politics, and is unlikely to take up pro wrestling for several reasons. First, there is the matter of knees so painful as to have been blamed for his retirement. Additionally, say people around him, to go into pro wrestling now would look like an act of desperation not reflecting well on the name he has tried to build.

"Right now," said Christine, "the best part of his new life is that he can take the kids (Caitlyn, 2 1/2, and Cody, 7 months) to the park when he wants to."