Best Restaurant



Alan Wong's • Best Restaurant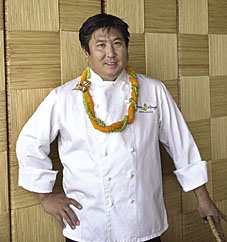 Chef Alan Wong is behind Alan Wong's Restaurant, voted the Islands' Best Restaurant.
Notable: As nearly flawless as a restaurant can be. With caring service, an innovative menu and a great bar and wine list, Alan Wong's offers an experience truly representative of island style.

Menu: It is, forgive the cliché, "all good." It's hard to get past old favorites like Da Bag (clams and kalua pig steamed in a pouch punctured with great drama at the table), ginger-crusted onaga and house-made chocolate bars to try newer specials.

FYI: Top floor, 1857 S. King Street; 949-2526. Dinner 5-10 p.m. daily. Reservations recommended. VS, MC, AX, DC, JCB. No checks. $$$

Dave & Buster's • Best New Restaurant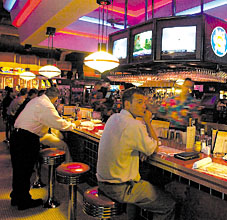 Dave & Buster's has two bars, sports on TV, a dining room with a varied menu and was voted Best New Restaurant. It's a popular hangout, especially for game-players and the twentysomething set.
Notable: When this spot opened in October 2001, like the Las Vegas Strip, Barnum & Bailey's circus and a mega-mall food court all rolled into one, the place was jammed with young Islanders, despite the fact that you needed a map to navigate the 40,000 square feet. Although things have calmed down a bit, it's still a popular hangout for p¨p¨, sports on TV, games and general fun.
Menu: The menu in the Grand Dining Room is eclectic and ranges from early lunch to late dinner, including steaks, chicken, pasta, ribs, burgers, sandwiches.

FYI: 1030 Auahi St., Ward Entertanment Center; 586-2215. 11 a.m.-midnight Sundays, 11 a.m.-1 a.m. Mondays-Thursdays and 11 a.m.-2 a.m. Fridays and Saturdays. Reservations recommended. VS, MC, AX, DC, DS, JCB. No checks. $$.