By Timothy Hurley
Advertiser Maui County Bureau
HUELO, Maui — Every day at dawn, this small coastal community is awakened by a raucous chorus of parrots, a large flock of green and red mitered conures taking wing in search of food.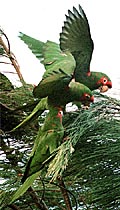 The sight of parrots may be a beautiful one to many, but it is one that worries Maui wildlife experts.

Eugene Tanner • The Honolulu Advertiser

It's a beautiful sight, but one that worries Renate Gassmann-Duvall, a bird veterinarian who has been keeping an eye on the birds for months in a study commissioned by the Maui Invasive Species Committee.

Gassmann-Duvall and other wildlife experts are worried that the flock, estimated at 150 to 200 birds, will continue its rapid growth and spread into other areas, playing havoc with Maui's environment and agriculture.

Maui officials aren't the only ones concerned. Parrots have become established on all the major Islands, and their numbers are said to be increasing.

"We've got to do something," said Fred Kraus, the state's alien species coordinator. "We've got to deal with it now before the problem gets out of control."

Parrots are just one of many alien species to become established in Hawai'i. In 1994, the federal Office of Technology Assessment declared the state's alien pest species problem the nation's worst.

Range of species

Sixteen parrot species have been documented in Hawai'i, from red-crowned Amazon parrots on O'ahu to rose-ring parakeets on Kaua'i and little corella cockatoos on the Big Island.

State wildlife officials are planning to meet with a U.S. Department of Agriculture bird expert from Florida this month to learn more about the options available for dealing with the parrots. The Maui study is the first aimed at trying to learn the scope of the problem on a single island.

Parrots are known as a pest to agriculture, especially to growers of fruit, corn and seed crops. Control efforts already have been launched by farming concerns on the Big Island and on Kaua'i, where three seed-corn companies have permits allowing them to shoot the pesky rose-ring parakeet.

"I don't think they kill them," said Tom Telfer, Kaua'i district wildlife manager for the state Department of Land and Natural Resources. "They mostly just scare them away."

Scientists say they fear the growing number of parrots will contribute to the degradation of Hawai'i's native ecosystems by spreading the seeds of invasive weeds far and wide, and by introducing bird diseases. Parrots also are known to kill other birds and compete for nesting space.

In addition, said Kraus, parrots can slow the reproduction of native plants, especially in dryland forests, where native seeds and flowers are vulnerable to foraging. Parrots are known even to destroy plants with their powerful beaks.

"We're having a hell of a hard time getting natives to reproduce. The last thing we need is something like this to make it harder," Kraus said.

It started with a pair

On Maui, three types of parrots have been identified in the wild. In addition to mitered conures, there is a sizable flock of rose-ring parakeets in East and Upcountry Maui, and a smaller group of Moluccan cockatoos in the Waikapu area, according to Gassmann-Duvall.

The Huelo flock of mitered conures reached its current size from a pair released 14 years ago. Today, the flock nests high in the sea cliffs at Huelo Point on Maui's north shore.

Gassmann-Duvall said the conures have been seen in pairs and groups of three within larger groups from Ha'iku to Hanawana Point, and flying into mauka areas to feed on rose apples, mountain apples, banyan figs and guavas.

On most mornings, the flock emerges from its nightly roost with loud shrieking and returns with a similarly strident chorus.

"They fly over the house screeching their heads off," said Jonathan Ross, a lifelong Huelo resident who has seen the parrots multiply over the years.

Ross is so annoyed about the problem that he let state wildlife officials onto his 12-acre property so they could shoot a few of the birds to collect for samples. He also said he stands ready to allow eradication efforts anytime state officials wish.

Control options limited

But exterminating parrots is a touchy subject, one that state officials plan to approach with caution. Kraus said the dilemma is that most people think of parrots as pets, and the creatures are intelligent. There are nonlethal options, including hand-capture for sale, but even that could generate controversy among those who believe birds should not be kept in captivity.

"We've got to get people to stop releasing the damn things," Kraus said, noting that it is illegal to let a parrot go in the wild.

The spread of parrots especially concerns officials on Maui because the island has so much uninhabited terrain where parrot populations can expand. There may be flocks of wild parrots officials don't even know about. In 1995, a flock of 30 or so Amazon parrots was seen flying near East Maui's Twin Falls.

"We don't know how big the problem is," said Fern Duvall, Gassmann-Duvall's spouse and a state wildlife biologist on Maui.

If left unchecked, Duvall said, the parrots probably will move into warmer and drier regions of West and South Maui, which have coffee and seed-crop farms.

Duvall, former head of the state's Olinda Endangered Species Facility, said it is frustrating to discover that so many people are not aware that parrots do not belong here.

"They think they're just part of the landscape," he said, adding that many works of art in Lahaina's galleries add to the misconception by depicting parrots in Hawaiian rain forests.