By Walter Wright
Advertiser Staff Writer
At noon, hundreds watched in solemn silence as boys named Edgar Castillo, Carmelo Rivera and Juanito Wong enacted the procession of the three kings bearing gifts to the Christ child.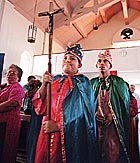 Edgar Castillo and Juan Wong enter St. John's Church in Kalihi dressed as two of the three kings in the "Three Kings Celebration" Mass celebrating Epiphany, the 12th day of Christmas, celebrated by many Spanish speakers worldwide.

Deborah Booker • The Honolulu Advertiser

By 5 p.m., they were whirling to the blaring trumpets of a mariachi band, savoring Latin food and exchanging gifts in a fiesta that would last, Angel Santiago said, "until the legs cannot dance any more."

From the Catholic Mass at St. John the Baptist Church to the party at the United Puerto Rican Association Social Hall, it was El Dia de Los Reyes yesterday in Hawai'i, a celebration as important in many Spanish-speaking areas of the world as Easter and Christmas.

January 6 is the 12th day of Christmas of the well-known song, the triple epiphany for believers marking the day on which Christ appeared to the Gentile kings, the day of Christ's baptism and the day of his first miracle at the wedding in Cana where he turned water into wine.

"We celebrate Christmas, Buena Noche, with a family reunion and dinner and token gifts," said Santiago, association vice president.

"But when I was a boy in Puerto Rico, it was for El Dia de Los Reyes that I waited on pins and needles," for the candy and gifts that would replace the shoebox of straw he carefully placed under his bed the night before.

For Santiago and many of the 100,000 other Hawai'i residents of Hispanic ancestry, it is a religious and cultural celebration that transcends the huge commercial and liturgical competition of Christmas Day in America.

"It is the children who preserve the day," said Nancy Ortiz, host of the weekly Alma Latina radio program and executive director of the struggling Hispanic Center of Hawaii.

"When we are doing rehearsals, one says, "I want to be Mary next year,' and another says, "I want to be an angel.'"

Ortiz, whose grandparents were among the Puerto Rican immigrants who came to Hawai'i beginning in 1900 to work on the sugar plantations, says the Puerto Rican association gave birth to the organized Three Kings Day celebration here 25 years ago.

Today the Mass and fiesta also attract Hispanics who trace their heritage to Mexico, Nicaragua, Costa Rica, Peru and many other Spanish-speaking countries, she said.