By James Gonser
Advertiser Leeward Bureau
WAI'ANAE — A species of kiawe with thorns so long and hard that they can easily pierce not only flesh but truck tires has been spotted recently at Ma'ili Beach Park, and state officials are mounting an effort to stop its spread.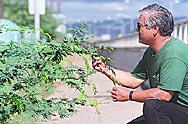 Milton Matayoshi of the state Department of Agriculture says long-thorned kiawe found on Sand Island and throughout O'ahu is dangerous and must be controlled.

Deborah Booker • The Honolulu Advertiser

But Makaha resident Gail Hunter, a volunteer with the University of Hawai'i's Urban Garden Center in Pearl City, said the species has been on O'ahu for some time and should not be targeted for removal.

"I've seen the long-thorned kiawe for years all up and down the coast," Hunter said. "Despite the larger thorns, the kiawe is still a valuable plant to have along the coast."

Thorns from a variety of kiawe called Prosopis juliflora can be up to 2 1/2 inches long and can go right through a slipper or a shoe, even piercing truck tires without difficulty.

Thorns from the kiawe most common in Hawai'i, Prosopis pallida, can be nearly an inch long.

The long-thorned species first appeared in Hawai'i about 1978, when it was seen at Sand Island, and it has spread to other parts of Honolulu. It is believed to exist in Hawai'i only on O'ahu, Kaua'i and Ni'ihau.

State Department of Agriculture noxious weed specialist Milton Matayoshi said the state wants to get a grip on the extent of its distribution before it gets out of control.

"We are in the preliminary stage — finding out where it is, how much there is, whose land it is on and what kind of cooperation we can get between state, federal, city and civic groups to control it," Matayoshi said.

Kiawe hot line

To report the long-thorned species of kiawe, call noxious weed specialist Milton Matayoshi at 973-9539 or the state 24-hour hot line for pests at 973-9541.

He said that on Kaua'i, a patch near the Barking Sands Pacific Missile Range at Mana Point has grown to about 100 feet thick and 2 or 3 miles long.

"It hinders public access and can be dangerous if stepped on," Matayoshi said. "We already know it has damaged city and private vehicles. We want to get something going to get rid of it."

But Hunter said ripping out the kiawe is unnecessary.

"You don't want to just pull these things out, because they keep the soil from eroding," Hunter said.

She said both types of kiawe, also known as algaroba or mesquite, provide shade, food for cattle and are excellent woods to burn.

The long-thorned kiawe, which is a smaller tree than the common variety, is listed on the state Department of Agriculture's tally of plants scheduled for destruction or control. Both the new variety and the original come from the Americas.

"Kiawe is well-established. I just can't imagine them going in and pulling them all out," Hunter said. "Do you know how much money it would cost to try and eradicate this? Kiawe is so hard it ruins chain saws."

Hunter would rather see an effort to eradicate the ivy gourd, an aggressive alien vine that forms a canopy that can kill off other vegetation and cause problems by growing up over fences and utility lines.

Matayoshi said the state has 79 noxious weeds on its weed list, and this kiawe is in the top 10. He would like people to call and report the kiawe wherever they find it.

"It's a nasty little thing, and we want to educate the public and see what kind of cooperation we can get in addressing this," he said. "We need to know where it is and how much of it is out there."