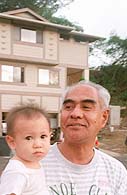 Burrelle "Butch" Ayau, holding neighbor Kahaku Clemente, waited 37 years to move into a Hawaiian homestead that suited him, thinking "I'd never get it while I was alive." See story.
Jeff Widener • The Honolulu Advertiser
Today in

Law of order: how kids' order influences their personalities

Samoan family devoted to education
Posted at 6:25 p.m., Sunday, Jan. 28, 2000
SUPERBOWL XXXV
Ravens win Super Bowl with stifling defense
The Baltimore Ravens brought brutal efficiency, unbending defense and a dose of explosive excitement to the Super Bowl, putting their own distinctive stamp on America's great football celebration. They beat the New York Giants, 34-7.

Makua Valley use hearing draws 500
The contentious, public debate over Makua Valley drew its largest audience to date as nearly 500 people filled a community center yesterday to hear comments about environmental protection, military readiness and unity.
Homestead improvement: A community grows in Kalawahine Valley
The $26 million Kalawahine Streamside project developed by Kamehameha Investment Corp.for the Department of Hawaiian Home Lands is quickly bonding into a tight community.
13 at large over years from jail on O'ahu
Thirteen men are known, in prison jargon, as "the walkaways." They officially are prison escapees. But instead of sneaking away, they just never came back.
| | |
| --- | --- |
| | You can now get our news and weather information on your wireless phone. |